WOODEVER shows you sustainable furniture business opportunities!
With the growing awareness of environmental protection in society, there has been an increasing demand for eco-friendly green furniture, which has driven the flourishing development of the sustainable material furniture market. As a supplier, WOODEVER Outdoor Furniture has chosen wood as its primary material and ensures that the manufacturing process does not harm the ecosystem, acquiring the required wood through legal logging and cultivation practices. Furthermore, we hold international certifications such as FSC and SGS, which signifies our unwavering commitment to sustainable development.
WOODEVER Outdoor Furniture is dedicated to providing a wide range of environmentally friendly outdoor leisure furniture options for major retailers, corporations, residential developers, and government agencies.
---
05 Jun, 2023
In recent years, global awareness of environmental protection continues to rise, and the demand for green furniture is also increasing. Sustainable materials have become the first choice for environmentally friendly furniture and an important purchase criterion, and consumers are beginning to avoid disposable products. According to Grand View Research, homebuilder applications dominate the eco-friendly furniture market, growing from 2% in 2005 to 23% in 2013 in eco-friendly housing construction. It also indicates that consumers are placing a high value on a sustainable environment, with eco-friendly furniture accounting for more than 61.6% of the global market share in 2019, and will grow at a compound annual growth rate of 6.8%.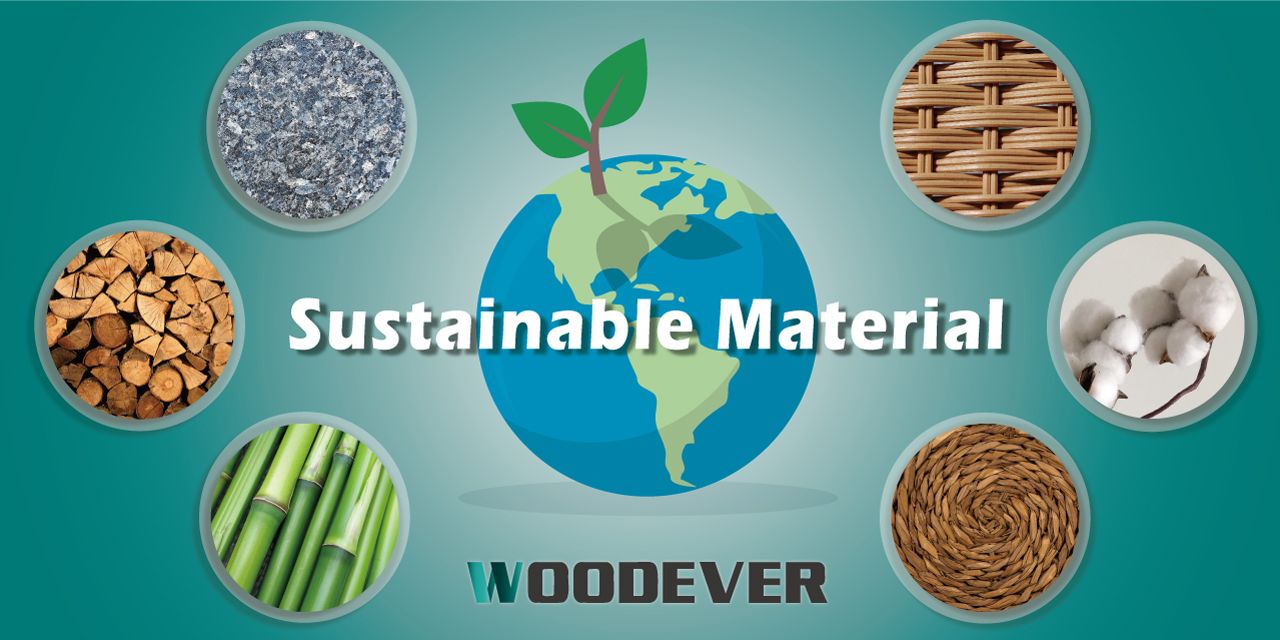 Outside of homebuilders, nearly one-third of customers are willing to pay for sustainable products in response to changing consumer expectations, outdoor and commercial establishments, and government agencies are also promoting the use of environmentally friendly furniture, in addition to respecting the environment to reducing the impact of harm and maintain sustainable development, it is more beneficial to establish a good corporate brand image and enhance the overall reputation and consumer trust.
After all this talk, what exactly is sustainable furniture?
In this article, we will explore the business opportunities of sustainable furniture with you!
---
What is Sustainable Material?
Sustainability, also known as "eco-friendly" or "green", means using materials that are renewable from nature or can be recycled and reused. For example, the wood is planted in a replanting way, and every time a tree is cut down, a tree is planted or only the top of the tree is cut so that it can grow again and the ecological environment can be sustainable.
A sustainable piece of furniture also includes its life cycle, durability, and subsequent waste management. Here are a few points to help you understand sustainable materials more quickly!
Most natural materials are produced in nature without synthetic raw materials, and most natural materials are grown naturally to maintain the ecology's original appearance and minimize environmental damage by continuous replanting. Wood has always been the material of choice for producing environmentally friendly furniture, and its natural quality enhances its durability. There are also cork, bamboo, rattan, or wicker, and organic fabrics such as cotton, hemp, wool, and natural stone are often used in commercial, residential, or government applications, such as marble, granite or limestone, etc.
Low chemical substance processing
The furniture in your home is usually filled with volatile organic compounds (VOCs), which are chemical substances that are emitted into the air from products. Excessive inhalation over a long period will lead to health effects, and excessive content may cause the risk of cancer. It is necessary to choose low-content paints, varnishes, adhesives, and other coatings that are certified and tested by professionals and do not contain toxic chemical processing materials to protect human health and safety.
At the end of the furniture's service life, its materials can be decomposed in an environmentally friendly way or recycled and disassembled for infinite recycling, which greatly reduces the carbon footprint. For example, wood, metal, iron, or decomposable plastics are friendly to recycling and do not cause the accumulation of waste.
Low negative environmental impact
The main axis is not to damage the original ecological environment, to purchase raw materials from legal forest farms, and to pay special attention to the selection of materials with internationally qualified sources or environmental furniture terms. The following are some of the more famous environmental certifications for your reference:
FEMB

BIFMA

FSC

LEED

SCS

Greenguard

MAS Certified Green

Cradle to Cradle
---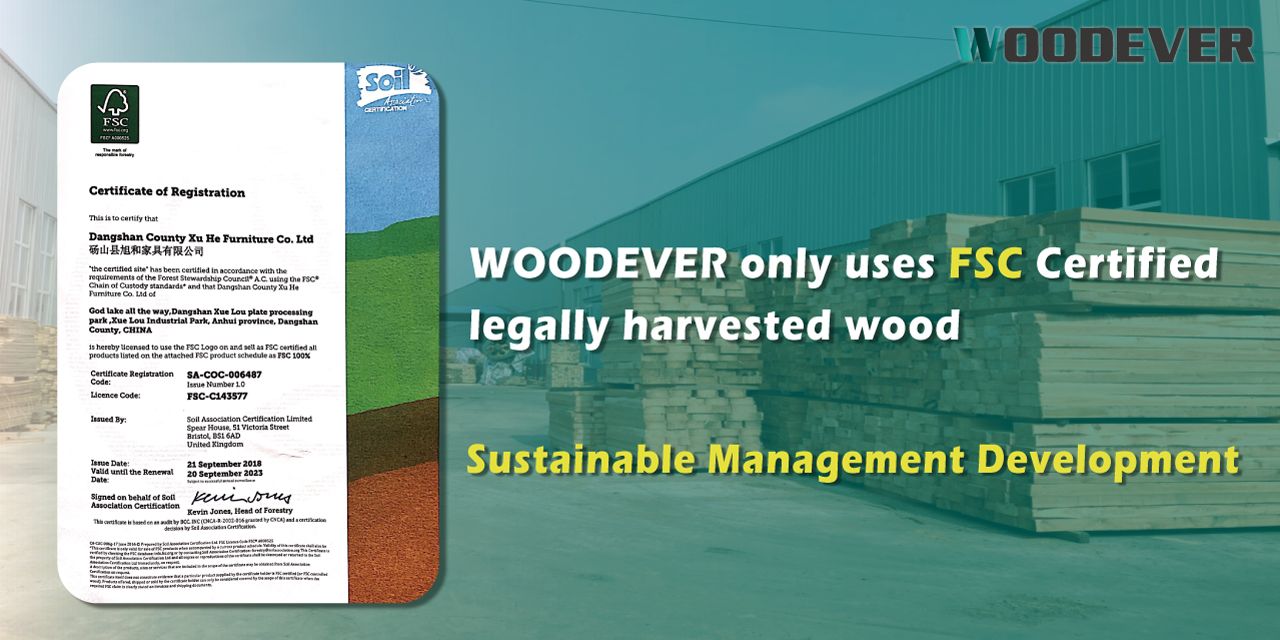 Sustainable materials have brought significant business opportunities for outdoor furniture, especially for global B2B manufacturers. Here are several key opportunities:
1. High-demand market: Environmental protection and sustainability have become major concerns in today's society. More and more businesses and organizations are seeking sustainable products and solutions that align with their values, including outdoor leisure furniture made from sustainable materials. Therefore, offering eco-friendly outdoor furniture presents lucrative opportunities in this high-demand market.
2. Establishing corporate image: Companies' commitment to sustainable development has become an important element in building their corporate image and brand value. Manufacturing outdoor furniture using sustainable materials showcases a company's dedication to environmental responsibility and helps establish a sustainable corporate image, attracting more customers and partners with similar values.
3. Regulatory and government support: Governments and regulatory bodies are increasingly prioritizing environmental issues and actively promoting policies and regulations for sustainable development. Many countries and regions provide incentives and support for products made with sustainable materials, such as tax exemptions, grants, and green certifications. As a B2B manufacturer, providing outdoor furniture that meets sustainable requirements can lead to potential orders from government agencies and public projects, further expanding business opportunities.
4. Building partnerships: Collaborative partnerships across industries have become increasingly important in the sustainability agenda. Many businesses are seeking suppliers and partners that align with their values to collectively drive sustainable development goals. As a global outdoor furniture manufacturer, offering outdoor furniture made from sustainable materials can help establish long-term partnerships and expand business networks.
In summary, providing outdoor furniture made from sustainable materials is not only an important strategy to meet market demands but also a powerful tool for establishing corporate image, expanding business, and building partnerships. By embracing environmentally friendly values, businesses can tap into the opportunities presented by the sustainable development market.
The awareness of ecological conservation will continue to rise, and sustainable materials have become an essential consideration for consumers when purchasing furniture. As a manufacturer committed to sustainable development, WOODEVER Outdoor Garden Furniture uses only internationally FSC-certified solid wood sourced from legally harvested and cultivated forests. We are also exploring the development of leisure furniture using various other sustainable materials in the future.
If you are interested in our wooden furniture, please feel free to contact us or visit our website for more information!
---
WOODEVER is one of the leading suppliers and manufacturers of outdoor leisure furniture in Taiwan, Europe, and America.
Our core concept of "Enjoyment of quality of life, long-term companionship with family members", is to provide customers with innovative and market-leading leisure furniture, bringing consumers not only the enjoyment of furniture but also the trust of the soul. All furniture materials are made of high-quality solid wood, and the wood has passed the international FSC certification, which protects the rights of customers and consumers in purchasing, and the smooth flow of import and export shipments, stable and safe on-time delivery.
"Enjoyment of quality of life,
long-term companionship with family members"
WOODEVER produces and develops a variety of outdoor garden furniture, such as hammock stands, swing beds, lounge chairs, swing chair stands, pergolas, swings, etc., has a series of professional wood processing machinery, and can provide customers with flexible customized services. In addition, we also provide OEM manufacturing plans. The product R&D team can develop exclusive leisure products for customers from all over the world. With more than 20 years of experience in furniture production, we can provide you with professional advice. Welcome, all major channel manufacturers to inquire!
Contact us or keep up with our latest news below:
Facebook / Pinterest / Linkedln / YouTube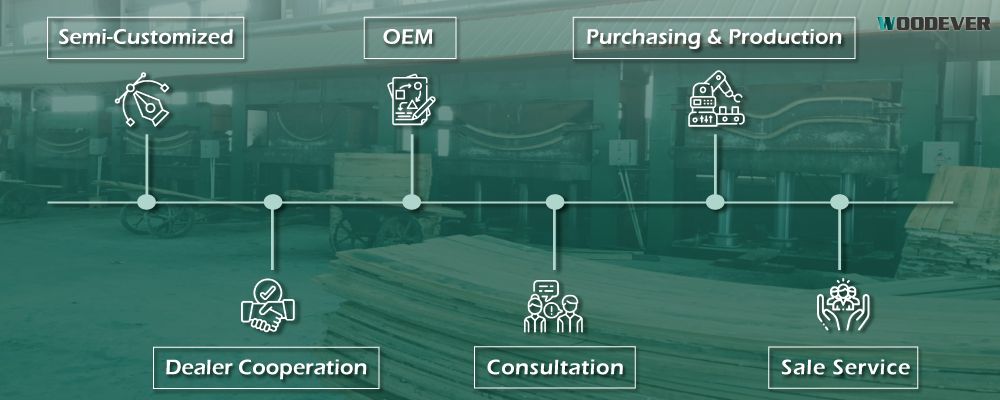 WOODEVER shows you sustainable furniture business opportunities! - Taiwan-Based Outdoor Wooden Furniture Manufacturer | WOODEVER
Located in Taiwan since 2003, WOODEVER INDUSTRIAL CO., LTD has been a wooden furniture manufacturer. Their main outside wooden furniture, including Wood Hammock, Hammock, Wood Swing, Swing Bed, Lounge Chair and Gazebo, which are sold to Europe, Australia and North America with FSC certified woods.
WOODEVER outdoor furniture has more than 15 years of export experience, factory manufacturing has 15 years of manufacturing experience. WOODEVER manufactures a full range of wooden leisure products, from hammock stand, swing chair stand, swing seat to various types of outdoor furniture. The adhesive glue and handguard varnish used in wooden furniture all come from the international SGS qualification inspection, customers can use the products with peace of mind, and reduce the market's doubts about the generation of formaldehyde from wood products, contribute to the global environment.
WOODEVER has been offering customers high-quality outdoor wooden furniture, both with advanced technology and 35 years of experience, WOODEVER ensures each customer's demands are met.