Do you think the life of outdoor furniture is very short? That is because you have not maintained it properly!
At WOODEVER wooden furniture factory, we use high-quality and stable solid wood materials and combine them with excellent production techniques to create durable and long-lasting products. Furthermore, we have strengthened the protective effect of our products by using clear coatings that have been certified by SGS to increase the durability and anti-corrosion ability of our wooden products when used outdoors. For customers who are unsure of how to care for their wooden furniture after purchase, WOODEVER provides the following maintenance tips to help you quickly find solutions!
---
17 Apr, 2023
Do you often don't know how to take care of outdoor furniture?
Why are there still many scratches and cracks after long-term use?
That's because you're using the wrong maintenance method!
Today, WOODEVER will provide you with tips on how to maintain your wood outdoor furniture and wood products, and the things you should avoid doing to your outdoor furniture!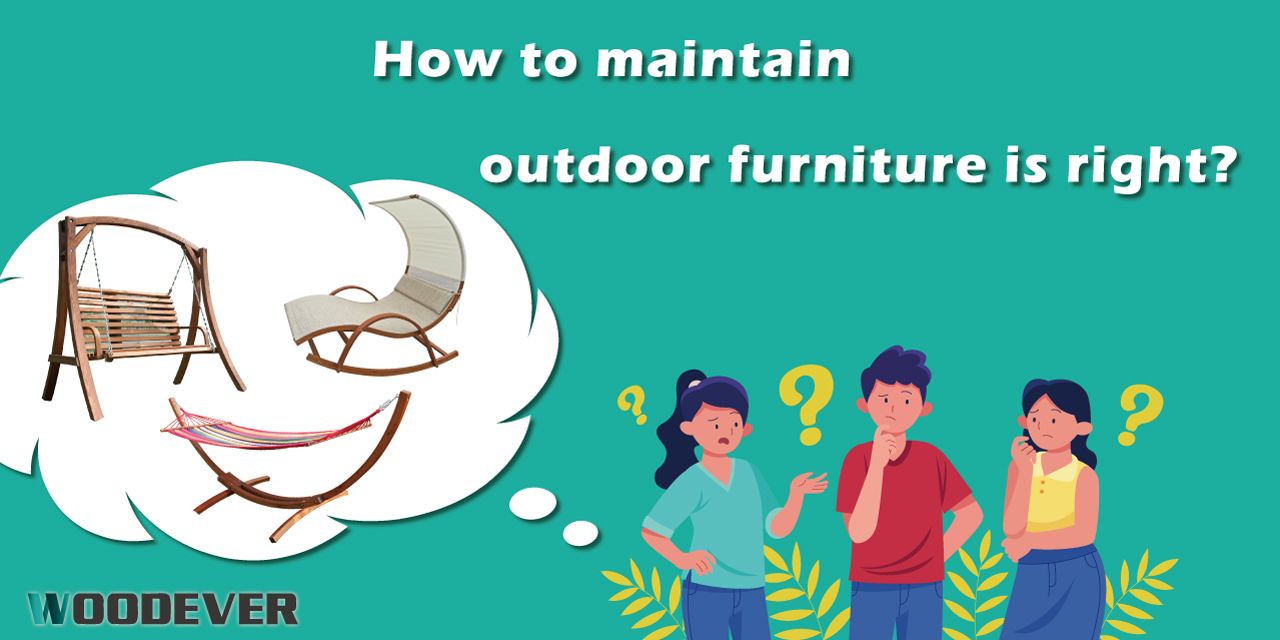 Wooden products have always been the first choice of many people's furniture, their durability and pureness are loved by everyone, the excellent quality of the furniture itself makes the low cost of maintenance, but the quality of the product will still lose its original luster after a long time, there will inevitably be wear, paint or scratches, outdoor furniture is even more so, the long-term need to face different types weather and environmental challenges, the key to maintaining a long time?
The first is to use good quality raw materials for production, and the second is to use the correct way of maintenance regularly, in addition to not spending too much time, but also to keep the furniture as new as original.
How to maintain your outdoor wooden furniture.
Wooden furniture maintenance is very easy, do not need to carry out very tedious cleaning procedures every day, it is recommended that a quick cleaning once a week can be done if there are pets at home will float lint, and may need more frequent dusting and outdoor furniture are recommended to be three times a week to reduce the accumulated damage in the outdoor.
Why do people often say that solid wood or log furniture is very expensive?
Quality.
Furniture made of good wood will last a lifetime, and even why so many people collect wood products, because its quality is worth more than its price, so to maintain the quality of this good furniture, you will find the relevant reference knowledge in this article.
1. Regular dusting
Dusting is the basic way to maintain furniture, the air contains many tiny dust particles, and over time will accumulate a film on the woodwork, which will increase the chance of minor scratches on the finish.
How to get the dust off correctly, we recommend using a soft lint-free, or microfiber cloth to wipe, gently dry wipe along the grain to avoid scratching the surface of the wood, if there is a stubborn stain you can slightly wet the cloth to avoid excessive moisture damage to the nature of the wood, and then take a clean dry cloth to wipe dry.
2. Use natural cleaning products
Avoid using harsh or chemically added cleaning agents, which may have some corrosive properties that can harm wooden furniture, choose more natural products to use, such as mild soap and water, neutral detergent, natural dishwashing liquid water, friendly wood cleaning products, or mixed vinegar solution. (You can add a little essential oil to remove dirt on the wood, and eliminate furniture odor can also be used).
3. Polishing and waxing of wooden products
With the use of furniture over time, the finish will inevitably have some aging, we can use a small amount of special furniture wax or beeswax on a clean cloth and wipe gently along the grain of the wood. For the polishing part, please choose a natural silicon-free polish product and wipe it on the surface of the wood in a circular motion to restore the natural luster of the furniture and maintain its beauty for a longer period.
4. Varnish/Paint on the wood
Clear and odorless, the use of specialized varnish can provide a strong protective layer for your wooden furniture, preventing wood surface discoloration, excellent water resistance to prevent furniture from moisture, and effectively block the sun's UV radiation caused by the bracket cracking, and give a good sense of gloss, while retaining the natural color and grain of the original wood itself.
*Drying time is longer, need to wait 24 hours to start
Different from varnish because it is colored pigments, you can replace your furniture with different colors, the pigments in the paint have a strong resistance to ultraviolet rays, and resistance to decay to reduce the risk of insect infestation and the growth of mold, effectively blocking the effects of outdoor wind, sun, and rain.
*Drying time is relatively short, but it also takes more than 8 hours.
If you need to apply additional varnish or paint to furniture that is already coated, it is recommended to sand the surface to make it look rough so that the paint will adhere better to it.
---
Avoid doing mine matters on furniture.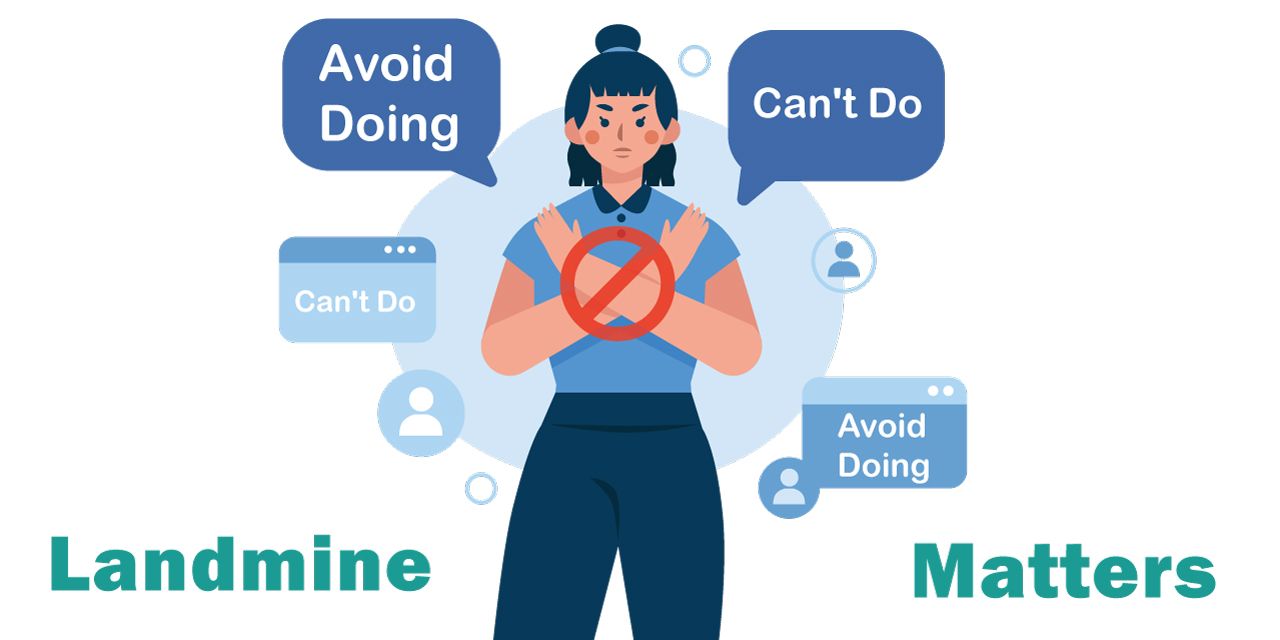 1. Avoid prolonged exposure of wooden furniture to rain.
When purchasing wood furniture, it is important to ensure that the moisture content is below 30% to reduce the chance of wood shrinking or swelling outdoors. Moisture is one of the things that can cause damage to wood products. Long-term accumulation in the wood may lead to deformation of the appearance or durability problems, improper handling is easy to breed bacteria or mold, and the wood will also have moths or decay.
It is recommended to apply water repellent or waterproof spray to outdoor furniture. When it rains or the moisture content is high, you can cover your wooden furniture with furniture covers or tarpaulins, or put it away in winter or when it is not in use to avoid accumulating too much water.
2. The influence of sunlight.
Wooden furniture exposed to sunlight, high temperature, and radiation for a long time, will lead to fading, discoloration, or damage to the situation occurs, including ultraviolet light is the main reason for wood discoloration, and different species of wood in the sunlight changes time and color is not the same, darker wood will become white and bright, and vice versa, it becomes gray, time may also cause the wood cracking situation.
When not in use, it is recommended to put on a furniture cover, or sunscreen, or just put it away first, and regularly apply sealer, varnish, or paint to wooden furniture to effectively prevent UV rays from entering the surface of the wood.
In addition, smaller outdoor furniture can also be configured with a sunshade or umbrella on the side to reduce the damage of direct sunlight while adding a different look to the outdoor area of the house, such as lounge chairs, swing chairs, hammocks, or table and chair sets.
3. Use the product according to the specified weight.
Different materials of furniture have restricted load specifications, please use the products according to the product information given by each manufacturer, and try to avoid overweight or multiple passengers to prevent the furniture support structure from accumulating pressure over time and causing damage.
WOODEVER's last words for you.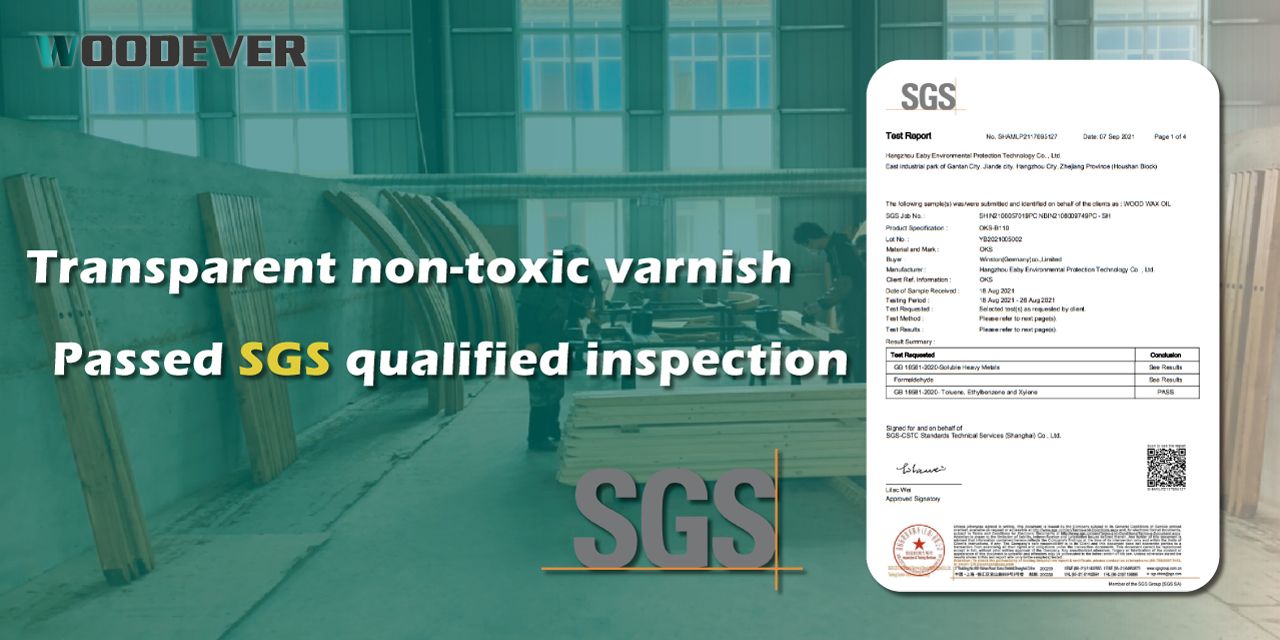 Our primary intention in selecting wooden furniture is to ensure its long-term preservation and increase its value. In reality, proper maintenance methods are not only simple and straightforward but also do not require much time or effort.
At WOODEVER outdoor wooden furniture, all products are coated with SGS-certified transparent varnish, which provides effective initial protection. However, we recommend that you apply protective varnish regularly after purchasing and follow the above recommendations for proper maintenance. We are confident that your precious wooden products will maintain their original condition for a long time, and from a business perspective, will bring you long-lasting benefits.
If you have any further questions or require additional assistance, please do not hesitate to contact us. We are always willing to help.
---
WOODEVER is one of the leading suppliers and manufacturers of outdoor leisure furniture in Taiwan, Europe, and America.
Our core concept of "Enjoyment of quality of life, long-term companionship with family members", is to provide customers with innovative and market-leading leisure furniture, bringing consumers not only the enjoyment of furniture but also the trust of the soul. All furniture materials are made of high-quality solid wood, and the wood has passed the international FSC certification, which protects the rights of customers and consumers in purchasing, and the smooth flow of import and export shipments, stable and safe on-time delivery.
"Enjoyment of quality of life,
long-term companionship with family members"
WOODEVER produces and develops a variety of outdoor garden furniture, such as hammock stands, swing beds, lounge chairs, swing chair stands, pergolas, swings, etc., has a series of professional wood processing machinery, and can provide customers with flexible customized services. In addition, we also provide OEM manufacturing plans. The product R&D team can develop exclusive leisure products for customers from all over the world. With more than 20 years of experience in furniture production, we can provide you with professional advice. Welcome, all major channel manufacturers to inquire!
Contact us or keep up with our latest news below:
Facebook / Pinterest / Linkedln / YouTube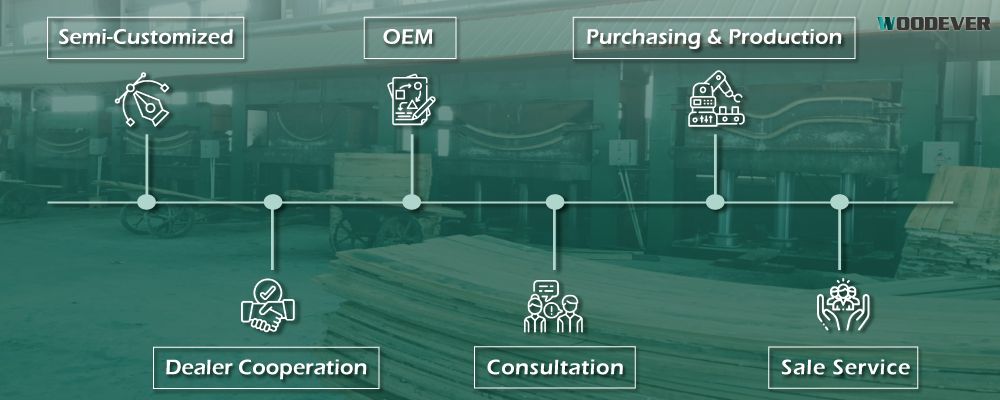 Do you think the life of outdoor furniture is very short? That is because you have not maintained it properly! - Taiwan-Based Outdoor Wooden Furniture Manufacturer | WOODEVER
Located in Taiwan since 2003, WOODEVER INDUSTRIAL CO., LTD has been a wooden furniture manufacturer. Their main outside wooden furniture, including Wood Hammock, Hammock, Wood Swing, Swing Bed, Lounge Chair and Gazebo, which are sold to Europe, Australia and North America with FSC certified woods.
WOODEVER outdoor furniture has more than 15 years of export experience, factory manufacturing has 15 years of manufacturing experience. WOODEVER manufactures a full range of wooden leisure products, from hammock stand, swing chair stand, swing seat to various types of outdoor furniture. The adhesive glue and handguard varnish used in wooden furniture all come from the international SGS qualification inspection, customers can use the products with peace of mind, and reduce the market's doubts about the generation of formaldehyde from wood products, contribute to the global environment.
WOODEVER has been offering customers high-quality outdoor wooden furniture, both with advanced technology and 35 years of experience, WOODEVER ensures each customer's demands are met.