About WOODEVER
Development, innovation and manufacture of outdoor wooden furniture.
WOODEVER Outdoor Furniture Supplier takes pride in its deep expertise in the field of wooden outdoor furniture. With over 15 years of extensive experience, we have successfully established a solid international market presence. Our products can be found in Europe, Australia, North America, and other regions, including a variety of outdoor leisure items such as hammock stands, swings, loungers, and more.
In order to continually meet the needs of global wholesalers, retailers, brands, distributors, and other channel partners, we are committed to innovation. To this end, we have set up a specialized outdoor furniture factory in Vietnam, where some of our products are now manufactured and shipped. This not only assists B2B businesses worldwide in reducing tariff and import-related concerns but also reinforces our commitment to the ongoing development and supply of diverse products.
WOODEVER boasts a professional research and development design team, along with a comprehensive OEM production capability, enabling us to craft unique outdoor leisure products for our customers.
---
Regarding Material Selection
WOODEVER employs natural solid wood in the crafting of outdoor furniture, with a focus on the use of premium Eucalyptus wood as the primary material. Eucalyptus wood is renowned for its exceptional qualities of Strength, Moisture Resistance, and Durability. Its outstanding weather resistance and resistance to corrosion make it an ideal choice for outdoor furniture. When used in outdoor furniture, Eucalyptus wood is not prone to deformation or cracking, and its natural oils effectively prevent moisture infiltration, creating a natural protective layer that guards against dampness, decay, or disintegration.
Using Eucalyptus wood as our raw material enhances the stability of our furniture by at least 20% to 30% in outdoor environments, while preserving its unique appearance and tactile feel. This enables our furniture to withstand varying weather conditions, providing your customers with an enduring and reliable usage experience. We adhere to strict standards in the procurement of Eucalyptus wood, sourcing only from forests certified by the Forest Stewardship Council (FSC) to ensure the reliability and stability of wood quality. Additionally, this reflects our commitment to sustainability, as we play our part in safeguarding the planet.
To meet the demands of B2B businesses worldwide, WOODEVER has expanded its product line to include metal outdoor furniture. Crafted from high-quality steel, our metal furniture is designed to withstand extreme outdoor weather conditions, such as sunlight, rain, and storms. Iron's high strength and stability enable it to bear substantial weight effortlessly, and it is also easy to work with and shape, allowing our research and development team to realize a variety of unique customization concepts, thereby diversifying our product range. Compared to other materials, the maintenance costs for steel outdoor furniture are relatively low, requiring only basic cleaning and occasional rust-prevention treatment to keep it in excellent condition.
WOODEVER Outdoor Furniture Factory
Our WOODEVER headquarters is located in Taichung City, Taiwan, and we have established outdoor leisure furniture manufacturing factories in both China and Vietnam.
Our original furniture manufacturing factory is situated in Anhui Province, China, and it complies with BSCI audit factory standards, adhering to a commitment to social responsibility. All our employees undergo professional education and training, following strict standard manufacturing processes. In terms of production equipment, the factory is equipped with various high-efficiency machines, including hot-press molding machines, multifunctional woodworking machines, high-speed drilling machines, sawing machines, and a comprehensive packaging line. These facilities enable us to produce furniture with flexibility, and we have a professional furniture design team capable of creating unique wooden leisure products for our customers.
We are well aware of the impact of tariff issues on the cost of import and export business in the global market. Therefore, WOODEVER has established a specialized outdoor furniture manufacturing factory in Vietnam to assist our customers in reducing destination country tariffs, making it easier to enter various markets without the worry of high tariffs. Our furniture factory in Vietnam also boasts skilled labor, technical expertise, and a range of furniture processing machinery, including hydraulic presses, punching machines, bending machines, drilling machines, automatic welding machines, and metal surface treatment equipment. We can now comprehensively manufacture and ship our metal outdoor furniture products in Vietnam. Furthermore, we continue to develop a diverse range of leisure furniture to meet the varying demands of B2B markets in different countries.
Security Assurance
All wooden products used by WOODEVER are coated with adhesives, wood protective varnish, and paint that have received global SGS certification, ensuring compliance with stringent formaldehyde content standards for wooden furniture. These products have undergone qualified testing, confirming their eco-friendly and non-toxic nature, posing no harm to human health. This not only helps eliminate consumers' concerns regarding formaldehyde content in wooden products but also enhances the competitiveness of your products in the market.
Furthermore, we place special emphasis on the surface treatment of metal furniture frames and have equipped ourselves with professional processing equipment. We can provide a variety of surface treatment options for metal furniture, including acid pickling and phosphating, sandblasting, electrostatic coating, electroplating, galvanization, and powder coating, among others. If customers have specific surface treatment requirements, we will make every effort to provide you with the highest quality production service. For more information on metal furniture surface treatment, please refer to our FAQ. We look forward to being your reliable partner and providing the finest solutions for your metal and wooden furniture needs.
---
---
Corporate Vision
WOODEVER's mission is to transform the role of furniture from mere decoration to a true element that connects families, through the concept of "Enjoying a high quality of life and long-term companionship with loved ones." We are committed to utilizing premium materials to create durable and sturdy outdoor wooden furniture, allowing our customers to enjoy high-quality products for many years to come.
"Enjoying a high quality of life and long-term companionship with loved ones."
---
Service Items
1. Furniture Raw Material Sourcing and Manufacturing:
We can source legal raw materials for outdoor furniture according to the needs of our customers, and our factories have professional production facilities that are flexible enough to handle a wide range of raw materials.
2. Semi-Customized Furniture:
Customers can choose to have their furniture fully customized according to their specific needs and preferences, or select existing products for semi-customized furniture solutions to meet the needs of different markets.
With our professional R&D team, we can provide a complete OEM production process, from design and manufacturing to final packaging and shipment, to realize the customer's brand vision.
4. Furniture Export International Certification:
In order to ensure that all of our furniture meets international standards and certification requirements, we provide pre-export testing and certification services, manufacturers can be based on customer or market demand, and the need for testing items, we will fully support and assist in processing, and to ensure that the product can be a smooth entry into the global market.
5. Product Physical and Chemical Testing:
We conduct comprehensive physical and chemical testing to ensure the quality and safety of our products, including durability testing, stability testing, and hazardous substance detection to ensure that our products meet the highest standards.
We welcome the cooperation of domestic and Taiwanese distributors, provide competitive terms of cooperation, and are committed to establishing a long-term relationship with the distributor, and jointly expanding the market to achieve mutual success.
7. Product Consultation:
Our professional team is always ready to provide customers with product consultation and advice and is very happy to help customers choose the most suitable furniture products for their business needs.
8. After-Sales Service:
We not only care about product delivery but also customer satisfaction. We provide quality after-sales service to ensure our customers have a worry-free experience when using our products.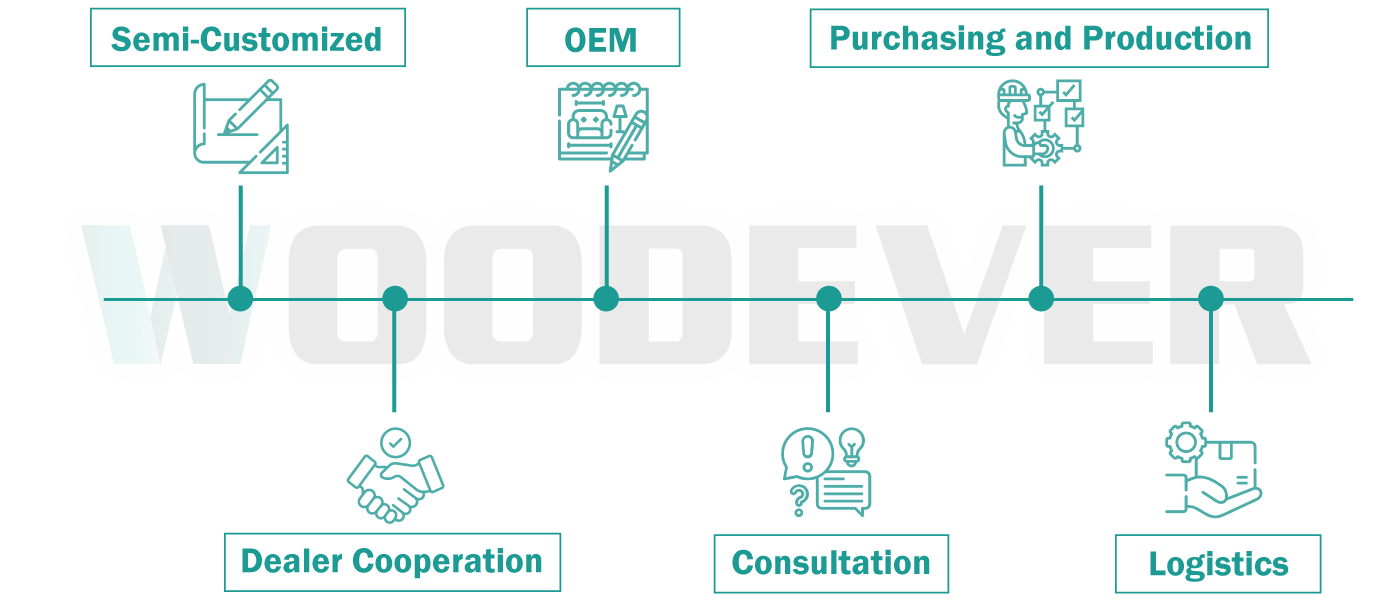 ---
WOODEVER Furniture Certification Inspection Service
In today's world, the furniture market is highly competitive, and customers' demands for product quality and safety are constantly increasing. We understand that as a B2B manufacturer, you need a reliable supplier that can ensure your products meet international standards and pass various certification tests.
That's where WOODEVER Outdoor Furniture Company stands out. We provide you with comprehensive international certification testing services, including physical and chemical testing. No matter what standards and specifications your products need to meet, we can ensure that your products meet the highest quality requirements.
When you collaborate with WOODEVER, you will benefit from the following advantages:
1. Export Furniture Certification Testing: Export furniture certification testing is crucial when entering the international market. Different countries and regions have their standards and regulations regarding furniture quality, material safety, and environmental protection. WOODEVER Outdoor Furniture Company has years of experience and expertise in this field. We can provide you with comprehensive export furniture certification testing services to ensure that your products meet the requirements of your target market.
We work closely with international certification bodies and are familiar with various international certification standards and specifications, including ISO, European EN, American ASTM, British BS, Australian AS/NZS standards, and more. Based on the requirements of your target market, we will conduct thorough testing and examinations to ensure that your products comply with local regulations and standards, enhancing your product competitiveness and opening doors to the international market.
2. Physical Testing: In the increasingly competitive furniture market, durability and quality have become important factors for consumer choices. WOODEVER Outdoor Furniture Company, in collaboration with advanced physical testing facilities and a professional team, is capable of conducting comprehensive and detailed tests on your furniture products. Whether it's durability, strength, structural stability, or functional testing, we can provide testing solutions that meet international standards to ensure that your products can withstand long-term use and various environmental conditions.
Our physical testing capabilities include but are not limited to, load-bearing testing, weather resistance testing, abrasion resistance testing, and seismic testing. We will send the samples to specialized laboratories based on the testing requirements and utilize advanced equipment and techniques to conduct various physical performance tests, ensuring that your products meet the customer's requirements.
3. Chemical Testing: In a society where environmental awareness and health consciousness are growing, chemical testing has become a crucial step to demonstrate product safety and environmental friendliness. As a supplier of WOODEVER Outdoor Furniture, we can provide comprehensive chemical testing services for your furniture products, ensuring compliance with various regulations and standards.
Our chemical testing capabilities include but are not limited to, hazardous substance testing, volatile organic compound (VOC) testing, and heavy metal testing. Through these tests, we can detect the presence of harmful substances such as formaldehyde and lead in your products and assess the level of volatile organic compound emissions. These test results will help you ensure that the chemical composition of your products complies with relevant regulations and standards, guaranteeing the safety and reliability of your products in the market.
Regardless of whether you are a furniture retailer, a multi-brand furniture chain store, an outdoor leisure product emporium, a furniture wholesaler, a distributor, a furniture brand, or a DIY furniture renovation business, WOODEVER can provide you with the best testing and inspection services according to your requirements and budget. WOODEVER Outdoor Furniture Company not only offers high-quality testing and inspection services, but we are also dedicated to providing customized solutions tailored to your needs and budget. Our team will assist you throughout the certification and testing process, saving you time and effort, and allowing you to focus on market expansion and product innovation.
---
Business Advantage
The furniture factory has BSCI factory inspection certification.

Provide international certification testing for furniture that customers need.

Physical and chemical testing of products

All wood has global FSC accreditation.

The fullness of experience in exporting products.

Wood processing glue is environmentally friendly and non-toxic after SGS testing.

OEM customized service-A variety of material options.

Standard production management system and safe working environment.

Continue to innovate furniture and quality improvement policy.

Perfect quality control.

Delivery on time.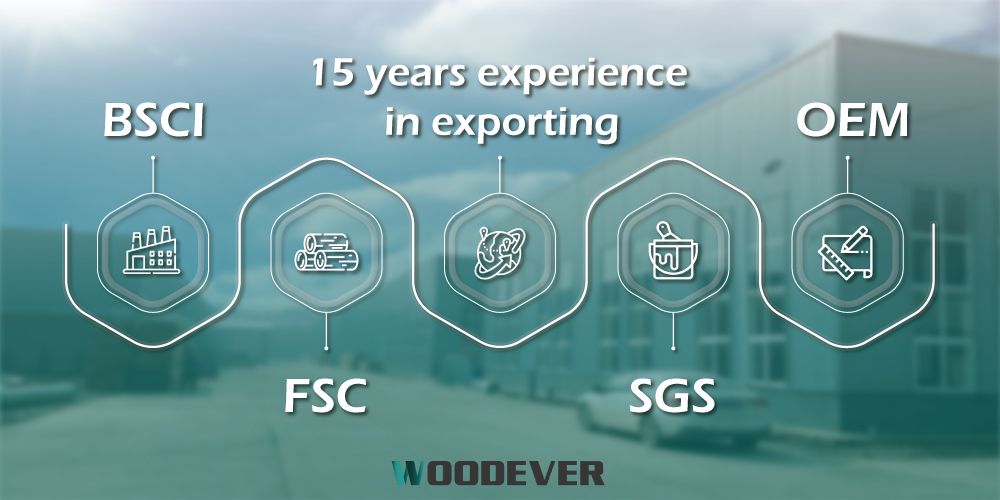 With more than 20 years of outdoor furniture manufacturing experience, and continuous development of innovative wooden leisure products.