Did you choose the right outdoor lounge chair that's popular around the world?
Different types of loungers have unique names, and finding the right style may require a significant amount of time. With over 15 years of experience in manufacturing outdoor loungers and exporting to multiple countries, WOODEVER has extensive sales experience in outdoor furniture and can provide you with professional advice immediately. In addition, our factory is equipped with OEM manufacturing technology and a professional design team that can customize exclusive garden loungers for customers.
---
02 May, 2023
As the trend for outdoor garden decor continues to grow, lounge chairs have become one of the fastest-growing furniture items. Lounge chairs can be used not only indoors but also outdoors, adding to the leisure quality of the backyard. Moreover, businesses can enhance customer dwell time through outdoor furniture.
A lounge chair is a reclining elongated chair similar to a seat but more flexible. It is pronounced "shayz long" and its name derives from the French word "chaise longue," meaning "long chair." The lounge chair originated from the ancient Egyptian "kline," which was considered a luxury modern furniture item, symbolizing noble social status. In ancient times, lounge chair frames were mostly made of wood and covered with leather. In some poorer areas, people used palm tree branches, ropes, and willow to make lounge chair frames.
As people place increasing emphasis on their quality of life, the lounge chair has become more than just a piece of furniture. It is now a place to enjoy leisure time and is considered one of the most common types of recreational furniture. There are a variety of designs and styles to choose from on the market, and we can place them in any relaxing location, whether it's in the bedroom, outdoor public areas, or tourist destinations.
In terms of materials sourcing, there is a wider range of options for lounge chairs. Common materials include hardwood, softwood, plastic, metal, stainless steel, aluminum, willow, and rattan. Each material has its unique properties and is suitable for different outdoor environments. Customers can choose the most appropriate materials to make their leisure furniture according to their needs.
Among these, hardwood is one of the most popular materials for making patio furniture. Besides its natural rustic appearance, hardwood is also durable and resistant to changes in outdoor environments. The chair frame is less likely to expand or contract due to weather changes, which can cause cracking or warping. Additionally, high levels of natural resin content make the lounge chair resistant to decay, reducing the likelihood of insect infestation and prolonging its lifespan for outdoor use.
---
The word lounger on the market is full of words, you know your needs are which style?
The most common names of recliners are, steamer chairs, recliner chairs, lounge chairs, and chaise lounge, seemingly all the same the appearance of many different details exist, for different needs to select the most suitable outdoor recliner, the following descriptions can be used for future reference.
(Note: Lounges are introduced with wood as the support material.)
| | |
| --- | --- |
| Steamer chair | The frame appearance is similar to the image of a steamer, the backrest chair a plank splicing, the degree of inclination is relatively straight, the angle of about 15-45 degrees range, most of them will be accompanied by the use of double armrests, the seat part presents a curved curve, and in the middle of the split into two folding functions, easy to store the space occupied by small, but also some of this part into a retractable function, according to the demand for switching seat length. |
| Recliner chair | Generally, the common backrest and seat part will be designed into the sofa style, where the function of the legs has two kinds, one is a separate footrest, the other is connected with the recliner as a whole to use together, the backrest tilt range is not large, about 15-45 degrees range, the market has many mechanical can adjust the tilt angle, and on both sides with double armrests. |
| Lounge chair | Most people often search for the word, which has a variety of different designs and functions of the lounge, with a fixed tilt position to make the backrest, the seat part is less with the use of a cushion. |
| Chaise lounge | The seat presents a flat straight rectangle, and the backrest tilt range is more extensive, usually, the angle is about 100-115 degrees between, and can be selected according to personal needs with armrests with chaise lounge. |
If you are specifically looking for a beach, poolside, or outdoor resort lounger, you can search for "Sunlounger" which will have more beach resort style styles you want.
---
How much space is available for a lounge? And where can it be used?
When choosing a lounge chair, it is important to ensure that there is enough space to accommodate it. Compared to other furniture, lounge chairs are typically longer and require more space to use. Therefore, it is recommended to consider the size of the indoor or outdoor space when purchasing a recliner, to avoid overcrowding.
The length of WOODEVER's wooden lounge chairs typically falls between 64 inches to 80 inches, and you can measure the suitable area for the recliner based on this size. In addition, it is recommended to leave 3 to 4 feet of space around each seat to facilitate people's movement in and out. This not only enhances the comfort of users but also ensures that the area around the recliner remains unobstructed, avoiding unnecessary inconvenience.
Lounge chairs can be used not only in gardens and backyards, but also on balconies, terraces, or front porches. In terms of commercial applications, recliners can be used in public construction by developers, national outdoor parks, beach or seaside businesses, outdoor dining areas of restaurants, decoration of hotel resorts or vacation rentals, and on cruise ship decks or by the pool.
Choose a recliner chair in addition to the size of the pinch, the material is not to be ignored, if you want to understand the choice of outdoor furniture, the product should pay attention to which focus, you can read this article to master the material characteristics of the correct choice of outdoor furniture business machine, there is a more detailed introduction to provide you with reference!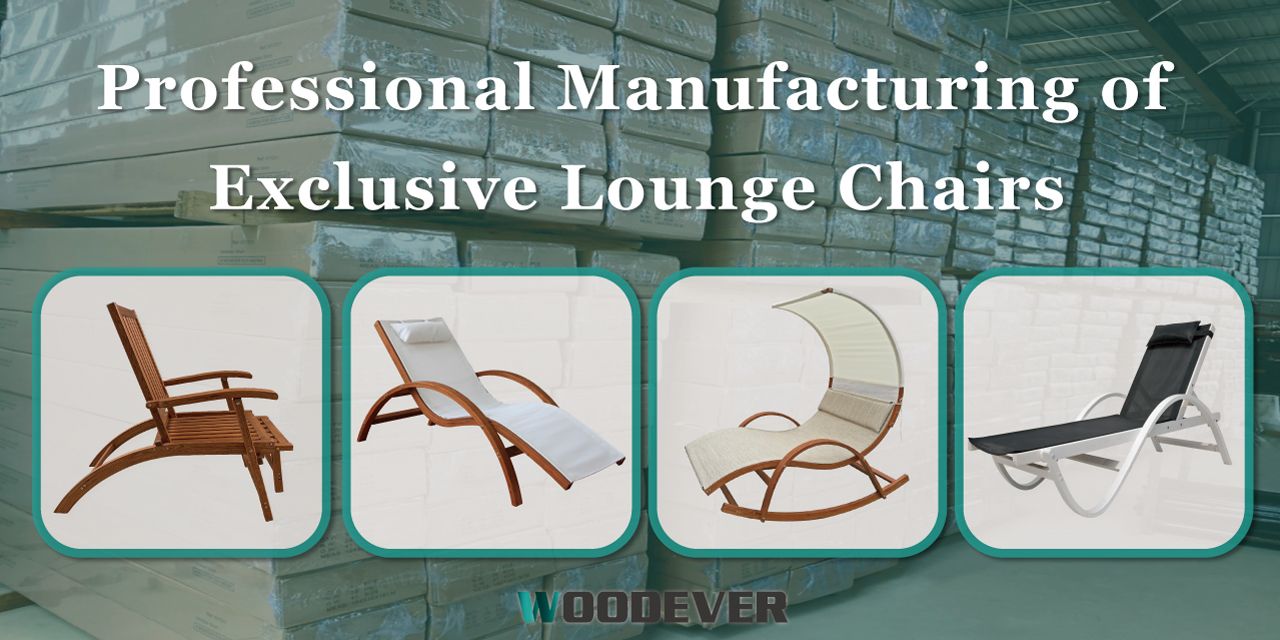 WOODEVER Outdoor Furniture Manufacturer is committed to meeting the needs of customers worldwide and provides OEM customization services. We can not only customize existing styles but also develop new exclusive leisure lounge chairs based on customer-provided product design drawings. With a professional design and development team and quality control personnel, we ensure that our products are of excellent quality and shipped on time to meet our customers' needs.
---
WOODEVER is one of the leading suppliers and manufacturers of outdoor leisure furniture in Taiwan, Europe, and America.
Our core concept of "Enjoyment of quality of life, long-term companionship with family members", is to provide customers with innovative and market-leading leisure furniture, bringing consumers not only the enjoyment of furniture but also the trust of the soul. All furniture materials are made of high-quality solid wood, and the wood has passed the international FSC certification, which protects the rights of customers and consumers in purchasing, and the smooth flow of import and export shipments, stable and safe on-time delivery.
"Enjoyment of quality of life,
long-term companionship with family members"
WOODEVER produces and develops a variety of outdoor garden furniture, such as hammock stands, swing beds, lounge chairs, swing chair stands, pergolas, swings, etc., has a series of professional wood processing machinery, and can provide customers with flexible customized services. In addition, we also provide OEM manufacturing plans. The product R&D team can develop exclusive leisure products for customers from all over the world. With more than 20 years of experience in furniture production, we can provide you with professional advice. Welcome, all major channel manufacturers to inquire!
Contact us or keep up with our latest news below:
Facebook / Pinterest / Linkedln / YouTube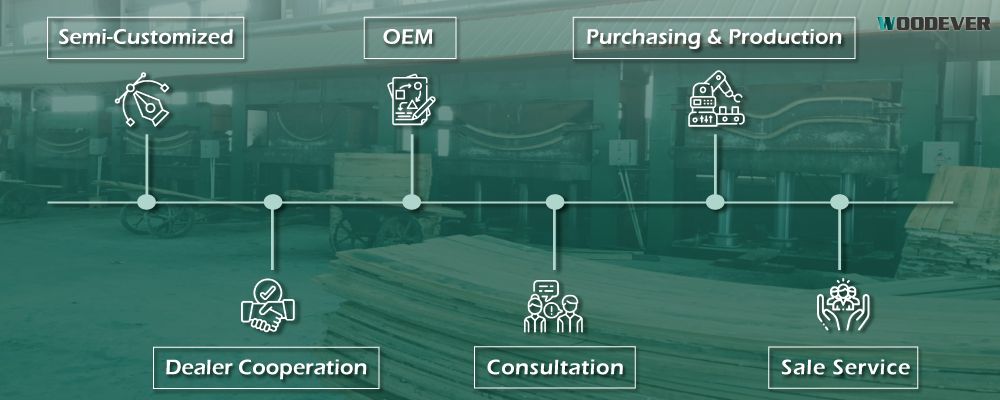 Related Products
Did you choose the right outdoor lounge chair that's popular around the world? - Taiwan-Based Outdoor Wooden Furniture Manufacturer | WOODEVER
Located in Taiwan since 2003, WOODEVER INDUSTRIAL CO., LTD has been a wooden furniture manufacturer. Their main outside wooden furniture, including Wood Hammock, Hammock, Wood Swing, Swing Bed, Lounge Chair and Gazebo, which are sold to Europe, Australia and North America with FSC certified woods.
WOODEVER outdoor furniture has more than 15 years of export experience, factory manufacturing has 15 years of manufacturing experience. WOODEVER manufactures a full range of wooden leisure products, from hammock stand, swing chair stand, swing seat to various types of outdoor furniture. The adhesive glue and handguard varnish used in wooden furniture all come from the international SGS qualification inspection, customers can use the products with peace of mind, and reduce the market's doubts about the generation of formaldehyde from wood products, contribute to the global environment.
WOODEVER has been offering customers high-quality outdoor wooden furniture, both with advanced technology and 35 years of experience, WOODEVER ensures each customer's demands are met.