How to choose solid wood and logs for outdoor furniture?
WOODEVER found that more and more people like wooden furniture in recent years. It has the advantages of natural environmental protection, high weather resistance, and long service life.
---
25 Jul, 2022
However, when choosing furniture, we often see solid wood and logs. What is the difference between these two kinds of wood? WOODEVER This article takes you to understand the characteristics of these two pieces of wood!

What is the difference between log and solid wood?
Log refers to wood that has not undergone much processing, and will not be painted on the outer layer to present furniture in its most primitive form. It is often used for long tables, chairs, stools, or wooden statues that do not need to be bent or deformed.
Solid wood is a piece of log that is sliced and processed in a small amount to improve the quality of the wood and can be designed to be diversified and ergonomic furniture while retaining the natural texture and luster.

Advantages and disadvantages of logs and solid wood?
The advantage of logs is that there is not too much processing and too much glue, it has the most natural texture, and the overall structure is solid and stable, but because of less processing, the wood is easily affected by weather and expands and shrinks, resulting in cracks, and it is afraid of high temperature and moisture, when making furniture, it is limited to the size of the log and cannot be changed.
The advantages of solid wood are that it has high plasticity and great flexibility in appearance changes. It can be processed and coated according to the needs to improve the stability of the wood. It has a long service life and can be used outdoors.

All outdoor furniture of WOODEVER is produced with solid wood. It uses a small amount of processing to achieve product stability and appearance flexibility and develops different curves and angles for ergonomics to increase the diversified development of furniture.
---
WOODEVER is one of the leading suppliers and manufacturers of outdoor leisure furniture in Taiwan, Europe, and America.
Our core concept of "Enjoyment of quality of life, long-term companionship with family members", is to provide customers with innovative and market-leading leisure furniture, bringing consumers not only the enjoyment of furniture but also the trust of the soul. All furniture materials are made of high-quality solid wood, and the wood has passed the international FSC certification, which protects the rights of customers and consumers in purchasing, and the smooth flow of import and export shipments, stable and safe on-time delivery.
"Enjoyment of quality of life,
long-term companionship with family members"
WOODEVER produces and develops a variety of outdoor garden furniture, such as hammock stands, swing beds, lounge chairs, swing chair stands, pergolas, swings, etc., has a series of professional wood processing machinery, and can provide customers with flexible customized services. In addition, we also provide OEM manufacturing plans. The product R&D team can develop exclusive leisure products for customers from all over the world. With more than 20 years of experience in furniture production, we can provide you with professional advice. Welcome, all major channel manufacturers to inquire!
Contact us or keep up with our latest news below:
Facebook / Pinterest / Linkedln / YouTube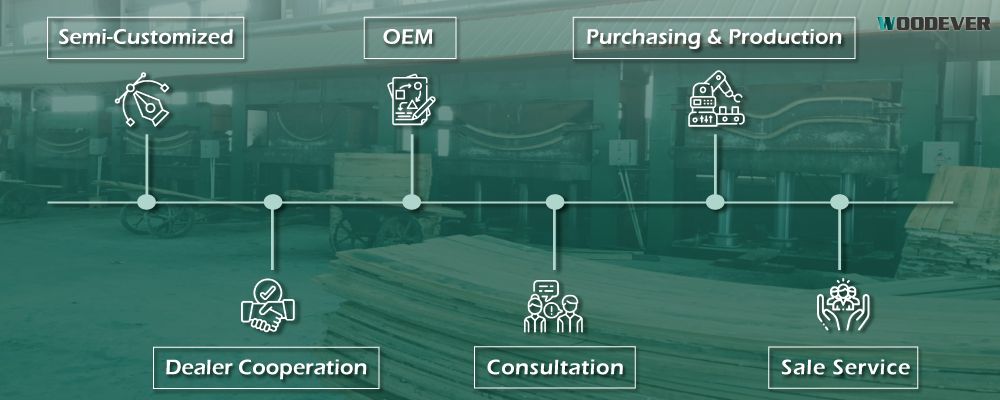 How to choose solid wood and logs for outdoor furniture? - Taiwan-Based Outdoor Wooden Furniture Manufacturer | WOODEVER
Located in Taiwan since 2003, WOODEVER INDUSTRIAL CO., LTD has been a wooden furniture manufacturer. Their main outside wooden furniture, including Wood Hammock, Hammock, Wood Swing, Swing Bed, Lounge Chair and Gazebo, which are sold to Europe, Australia and North America with FSC certified woods.
WOODEVER outdoor furniture has more than 15 years of export experience, factory manufacturing has 15 years of manufacturing experience. WOODEVER manufactures a full range of wooden leisure products, from hammock stand, swing chair stand, swing seat to various types of outdoor furniture. The adhesive glue and handguard varnish used in wooden furniture all come from the international SGS qualification inspection, customers can use the products with peace of mind, and reduce the market's doubts about the generation of formaldehyde from wood products, contribute to the global environment.
WOODEVER has been offering customers high-quality outdoor wooden furniture, both with advanced technology and 35 years of experience, WOODEVER ensures each customer's demands are met.