A full range of furniture options for indoors and outdoors - WOODEVER Hammock
WOODEVER Professional Furniture offers a wide variety of hammocks for indoor and outdoor use and is a must-have for many corporate retreats. We offer a wide variety of materials and styles, including wooden hammock sets for outdoor restaurants or hotels, and freestanding installation without the need to spend time looking for two places to hang.
If you want to get more detailed information about the style, welcome to contact us, and our professional staff will reply to you immediately.
---
06 Apr, 2023
Hammocks in the outdoor product ranking have always been very front, and with the epidemic tends to slow down more and more outdoor activities increasingly open, people engaged in leisure and entertainment ratio also gradually increased, hammock sales in these years also rapid growth, according to Technavio's data forecast, hammock market demand is expected to increase by another 17.74%.
Hammock Origin
Early hammocks were developed by the Native Americans and the British to use for sleeping, woven from simple bark and hemp rope, and hanging function to reduce insect bites and other safety issues, the middle began to be popular in the navy and used to rest on the deck of the ship, lightweight and good storage to save space on board; nowadays, hammocks are often used as a daily relaxation or outdoor recreation purposes.
The basis for making hammocks always remains the same, but with the progress of the times, the gradual development of a variety of fabrics, materials, or rope types, increasing the safety and comfort of the hammock, to meet the needs of consumers in the market, the development of much multi-functional nature of the hammock, mosquito nets to repel insects, tent type hammocks, etc., and additional design of the hammock cloth using the bracket, even in the outdoor without two solid support points can also easily hang independently.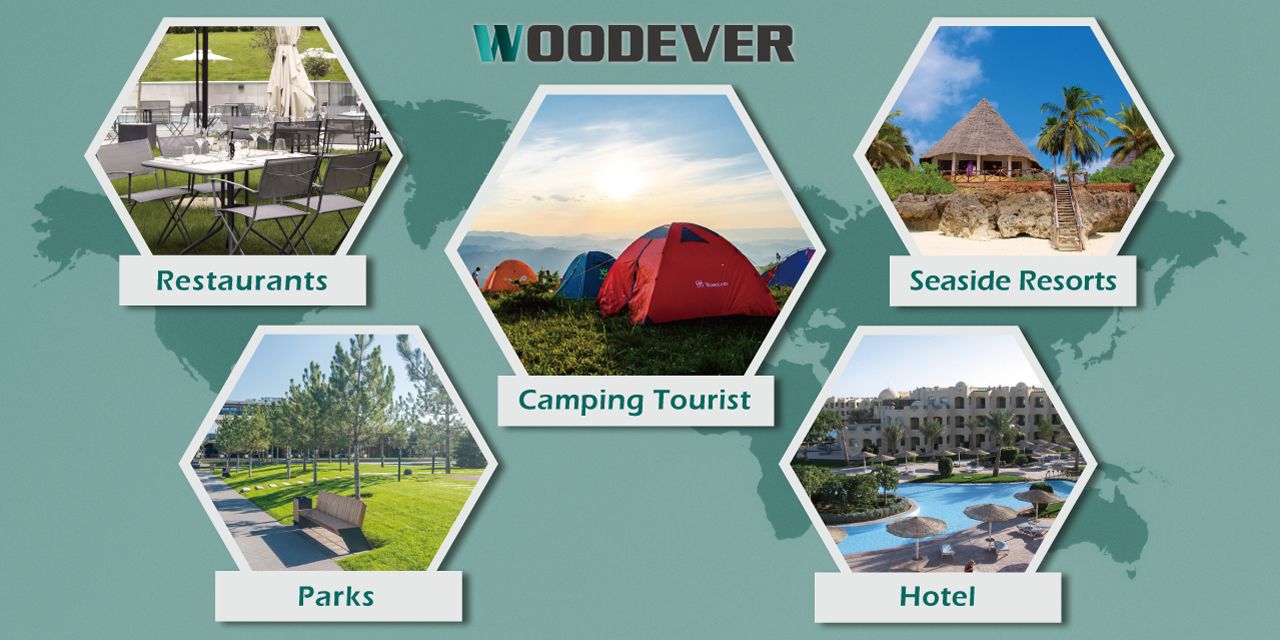 In recent years, while COVID-19 has had a significant impact on outdoor recreation, camping participation is skyrocketing. According to the annual North American Camping Report, camping will account for 40% of all leisure travel in 2021, and more than half of travelers will include camping as an activity in their trip, boosting the growth rate by five times and subsequently increasing the popularity of hammocks.
Many backpackers or travelers the purchase camping or mountaineering equipment, will be the hammock will be added to their shopping list, because of is lightweight so the space occupied in the luggage is very small, open and storage are very convenient, can easily take a trip to provide them with a place to rest overnight.
Create thematic outdoor spaces for your business to enhance the quality of your customers' leisure!
As people's lifestyles change and the impact of the pandemic, outdoor activities have become an essential part of modern life. In addition to the demand for travel and camping, more and more people enjoy leisure activities in outdoor areas such as beach resorts, parks, outdoor restaurants, and hotel facilities. At home, there is also an increasing amount of space for outdoor leisure activities. This is a new opportunity for businesses to provide more outdoor leisure space and create a unique and comfortable atmosphere for customers.
In this trend, hammocks have become a part of the decoration, helping to improve appearance or add themed spaces while enhancing the quality of leisure. In private residences, people have also gradually brought daily activities outdoors, resulting in new changes in private homes, such as adding hammocks, lounge chairs, swings, and other leisure furniture to create more leisure areas in outdoor spaces such as gardens, porches, and decks, enhancing the quality of home life. For hotels, resorts, and other businesses, adding outdoor leisure space can attract more customers, and enhance customer satisfaction and loyalty.
Overall, treating outdoor leisure space as a service provided by a business can bring more business opportunities and competitive advantages, while also providing customers with more leisure experiences and life pleasures.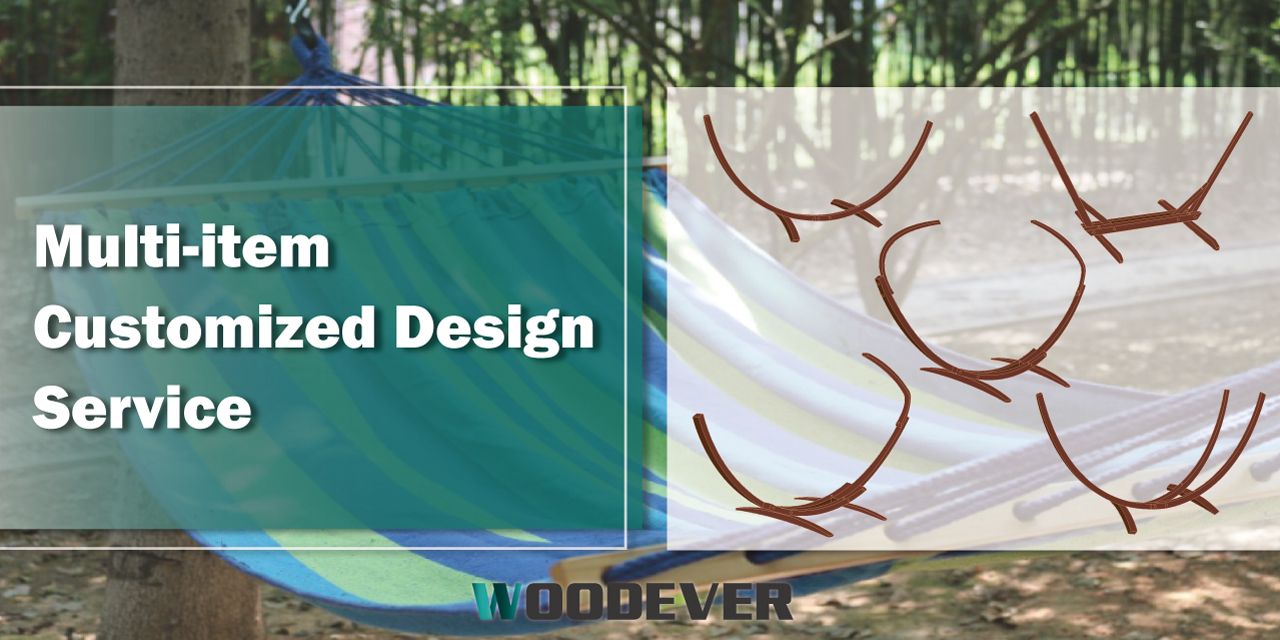 WOODEVER's outdoor furniture offers a variety of outdoor hammocks tailored to your needs. We provide a wide range of materials and styles, including polyester fiber, cotton, canvas, textile, and composite fabrics. Our hammocks can be customized according to your preferences, including materials, colors, and brand printing, allowing your outdoor hammock to be more personalized. The hammock design is lightweight and portable, equipped with a safety metal buckle, which can be easily hung by one person on a tree outdoors. If there is no suitable fixed point around, we also offer a wooden hammock stand set with an independent design, which can be quickly and easily assembled to meet your various needs.
---
WOODEVER is one of the leading suppliers and manufacturers of outdoor leisure furniture in Taiwan, Europe, and America.
Our core concept of "Enjoyment of quality of life, long-term companionship with family members", is to provide customers with innovative and market-leading leisure furniture, bringing consumers not only the enjoyment of furniture but also the trust of the soul. All furniture materials are made of high-quality solid wood, and the wood has passed the international FSC certification, which protects the rights of customers and consumers in purchasing, and the smooth flow of import and export shipments, stable and safe on-time delivery.
"Enjoyment of quality of life,
long-term companionship with family members"
WOODEVER produces and develops a variety of outdoor garden furniture, such as hammock stands, swing beds, lounge chairs, swing chair stands, pergolas, swings, etc., has a series of professional wood processing machinery, and can provide customers with flexible customized services. In addition, we also provide OEM manufacturing plans. The product R&D team can develop exclusive leisure products for customers from all over the world. With more than 20 years of experience in furniture production, we can provide you with professional advice. Welcome, all major channel manufacturers to inquire!
Contact us or keep up with our latest news below:
Facebook / Pinterest / Linkedln / YouTube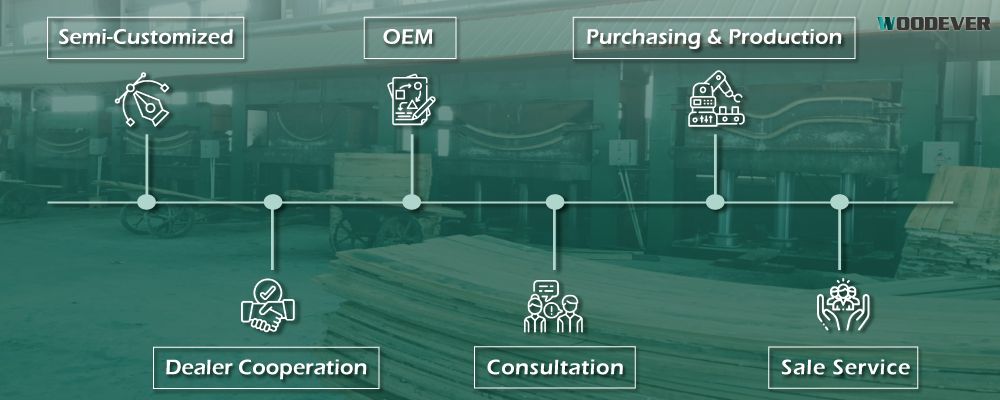 Related Products
A full range of furniture options for indoors and outdoors - WOODEVER Hammock - Taiwan-Based Outdoor Wooden Furniture Manufacturer | WOODEVER
Located in Taiwan since 2003, WOODEVER INDUSTRIAL CO., LTD has been a wooden furniture manufacturer. Their main outside wooden furniture, including Wood Hammock, Hammock, Wood Swing, Swing Bed, Lounge Chair and Gazebo, which are sold to Europe, Australia and North America with FSC certified woods.
WOODEVER outdoor furniture has more than 15 years of export experience, factory manufacturing has 15 years of manufacturing experience. WOODEVER manufactures a full range of wooden leisure products, from hammock stand, swing chair stand, swing seat to various types of outdoor furniture. The adhesive glue and handguard varnish used in wooden furniture all come from the international SGS qualification inspection, customers can use the products with peace of mind, and reduce the market's doubts about the generation of formaldehyde from wood products, contribute to the global environment.
WOODEVER has been offering customers high-quality outdoor wooden furniture, both with advanced technology and 35 years of experience, WOODEVER ensures each customer's demands are met.