What is FSC? Why choose a supplier with FSC for wooden furniture?
FSC certification is an important requirement for importing and exporting wood products. Consumers are increasingly aware of the need to purchase environmentally friendly products, and providing FSC-certified wood furniture can meet the needs of customers who prioritize sustainability and environmental responsibility, becoming a global guarantee for wood products. All WOODEVER wooden furniture suppliers are FSC certified to ensure that the raw materials are sourced from legally cultivated forests, providing our customers with greater peace of mind that their furniture is of high quality.
If you don't know what FSC is, this article will tell you the importance of FSC!
---
04 Jul, 2023
What is FSC?
The Forest Stewardship Council (FSC) was founded in 1993 in Bonn, Germany, as an international independent, non-profit, non-governmental organization.
The purpose of certification is to ensure that the wood used in products comes from legal forest resources, to promote responsible management of the world's forests, to convey the concept of sustainable management of the ecology, and to have integrity, credibility, and transparency of the system and is regarded as one of the most widely used forest certification standards.
With more than 1.95 million hectares of protected forests and certifications in over 80 countries, FSC offers companies and consumers a wider choice of paper, wood, and other forest products. The FSC seal of approval also means that the raw materials used for the effects come from legally managed forests and that the materials are environmentally friendly, sustainable, and minimally harmful.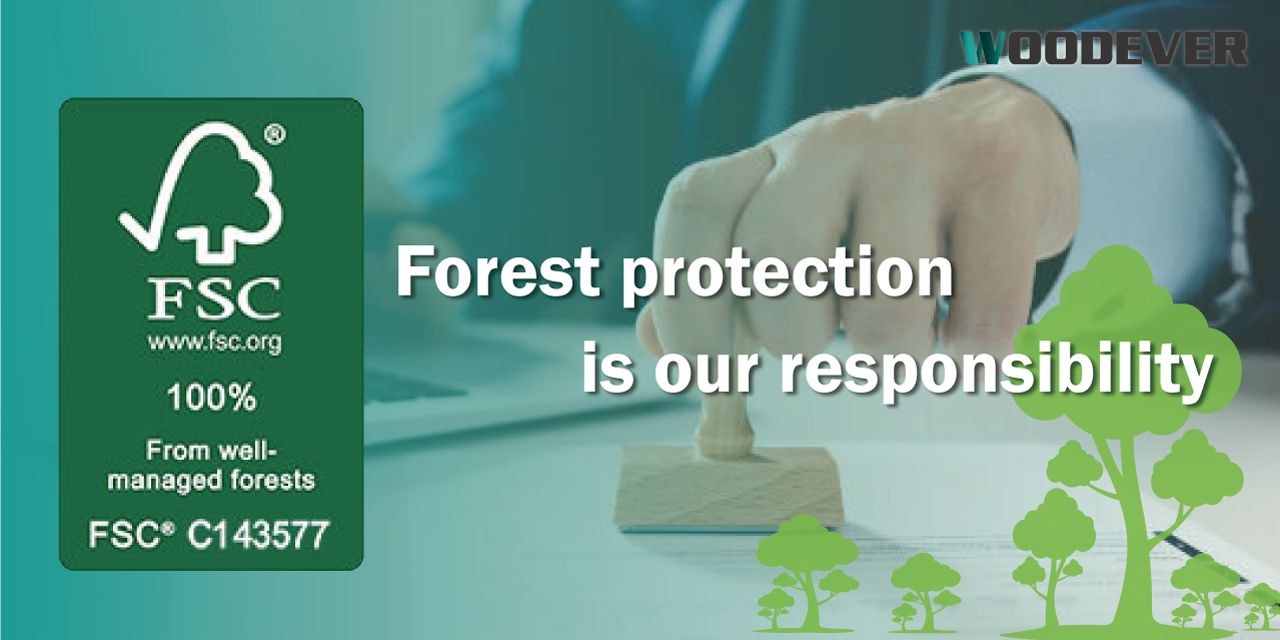 Why do wood products need FSC certification?
In the face of global warming and environmental changes, over-exploitation and ecological destruction of forests have become accomplices. People are gradually becoming more aware of sustainable ecology and the importance of natural forests. When purchasing products, they begin to pay attention to whether they have passed environmental testing and look for suppliers with reliable sources or FSC-labeled products and packaging, and the number of companies that are making sustainable management their starting point is also on the rise.
FSC certification opens up new markets for wood furniture. Many government agencies and major corporations require FSC-certified products to ensure the reliable origin of their products and to effectively enhance their value and competitiveness in the global marketplace. By providing FSC-certified wood products, manufacturers have the long-term viability to maintain sustainable forest management practices and forest ecosystems, ensuring a stable and reliable supply of wood products in the future, while reducing the risk of using illegally harvested wood.
FSC is also listed as a required certification for the import and export of wood products.
Since March 2013, the EU Timber Raw Materials Regulation has been officially implemented for the 28 EU member states to carry out stringent control of wood products, applicable to the import, production, and supply of wood materials or the circulation of wood products within the EU, and the FSC certification plays an important role in this regard.
Forest management through FSC certification helps to ensure that importers and exporters comply with relevant regulations, effectively promote trade between forest industries, reduce the circulation of illegally sourced materials in the market, and at the same time meet the relevant regulatory requirements for the import and export of forest products in many countries and regions, reducing legal and reputational risks.
---
FSC main statement labels are divided into 3 types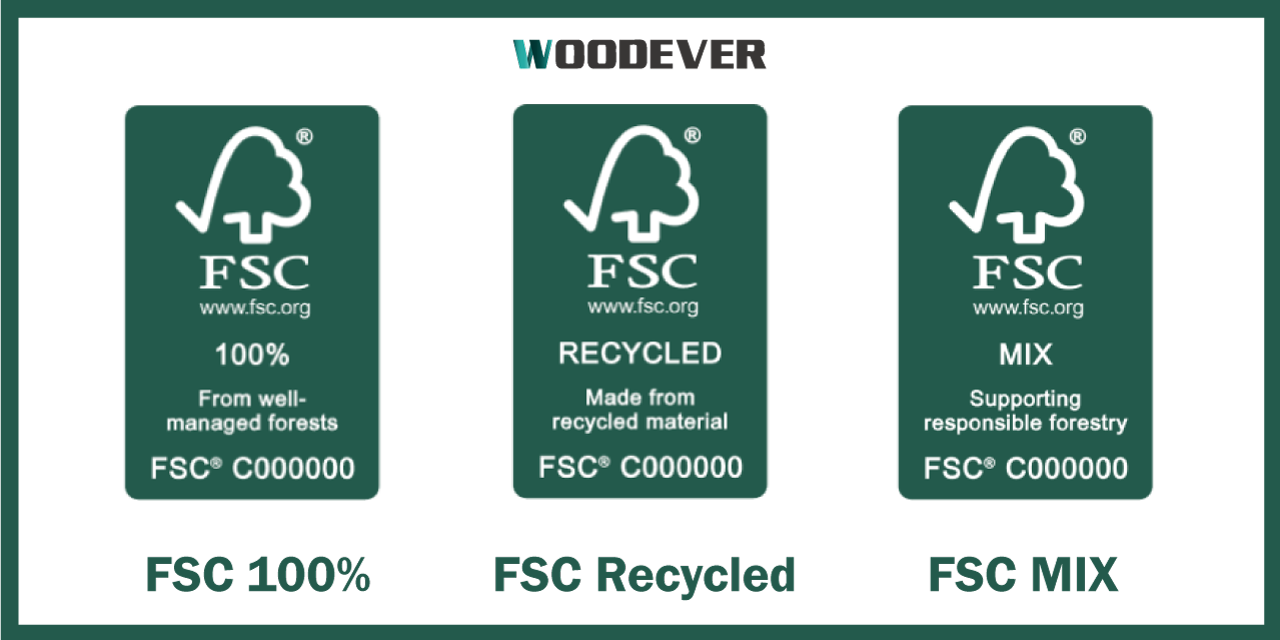 1. FSC100%:
A product with the FSC 100% label means that 100% of the raw materials used in the product, including wood, paper, and other forestry come from FSC-managed certified forests, ensuring legal harvesting and sustainable operations, and publishing the 10 Forest Stewardship Principles to implement the management mechanism. The label is often used on furniture, paper products, or building materials, and allows consumers to understand the environmental impact of the products they buy.
2. FSC Recycled:
All paper and wood in products must contain at least 85% post-consumer recycled content that can be broken down and remanufactured into new products, reducing potential waste and the environmental impact of cutting down trees. The label also helps consumers choose paper and paper products made from recycled materials.
3. FSC Mix:
The product is a mix of different materials of different natures, all from FSC legal inspection and then mixed, including FSC wood, recycled materials, or another regulated forestry. The regulated forestry industry is not as stringent as FSC certification but still avoids the use of incorrect raw materials, such as illegal logging, genetically modified wood species, high conservation forests, etc.
---
What are the 2 types of FSC certificates?
1. Forest Management (FM) Certification:
Certificate to prove the environmental benefits of deforestation by applying to FSC for inspection of managed forests, applicable to both natural and planted forests. The certification process is evaluated following the 10 FSC principles. Forest managers must demonstrate that their management practices meet standards that include protecting biodiversity, maintaining ecosystems, and respecting the resource use rights of indigenous peoples and local communities, and many forest operators have also chosen to obtain forest management certification to demonstrate their commitment to responsible forest management.
2. Chain of Custody (CoC) Certification:
Ensuring that all raw materials used in the product supply chain are from certified forests, and assuring consumers that every step in the manufacturing process of the products they purchase is FSC-compliant, enhances the company's reputation and strengthens its purchasing policy.
|Controlled Wood (CW)|:
This refers to acceptable materials from other sources that can be blended with FSC-certified materials in products that have the FSC Blend Label, of which five categories of controlled wood sources cannot be used and will not be blended with FSC-certified wood, as follows:
Illegal logging of timber

Timber cut in violation of traditions and human rights

High Conservation Forest Areas

Conversion of timber from former forests to non-forest uses

Genetically improved planted forests
---
FSC 10 Principles
Principle 1: Compliance with laws and FSC principles
Forest management must comply with all applicable laws, regulations, and international treaty agreements ratified between countries, such as those related to timber or ecological reserve logging, wildlife protection laws, social and environmental responsibilities, etc. This is a basic requirement for FSC forest manager certification and to ensure that forest activities are carried out legally and sustainably.
Principle 2: Workers' Rights and Employment Conditions
While we are protecting the environment, the rights and employment conditions of a large number of workers in hazardous forestry jobs should be given more attention and FSC should provide meaningful safety measures.
Principle 3: Aboriginal Power
Commitment and protection of the rights of indigenous peoples who live in or depend on forest resources and who own the majority of forest resource management, FSC requires that managers of certified forests respect them and take into account their equitable interests.
Principle 4: Community Relations and Workers' Rights
Defined as a community of any size within or near a forest management unit that recognizes the protection of local rights, resources, land, etc., in a cooperative and helpful relationship to maintain the social environment and reduce conflict and competition between them.
Principle 5: Benefits of Forests
FSC certification enhances the ecological protection of forests and holds the key to long-term sustainability, bringing four benefits: environmental, social, economic, and climate, not only protecting natural habitats but also providing safe, competitive jobs and products.
Principle 6: Environmental Values and Impacts
The forest is an extremely important ecosystem with a wide variety of organisms, Forest managers must protect endangered species, natural habitats, and promote the regeneration of forest resources, and in the case of soil conservation, minimize soil erosion to protect water quality and help mitigate the negative impacts of deforestation activities.
Principle 7: Management Business Plan
Management practices are a fundamental component of forest management, involving stakeholder involvement, assessing forest resources, setting management objectives, and monitoring and evaluating the effectiveness of management programs. By following the FSC certification program, forest managers can effectively practice sustainability objectives.
Principle 8: Forest Monitoring and Assessment
The final elements of the management operation at Point 7 include monitoring and evaluation, which is based on the scale and intensity of the forest, including assessment of the development of policies and program activities, environmental and social impact changes, etc. The results of the evaluation are fed into the plan.
Principle 9: Protecting High-Value Forests
Rare ecological species and habitats are found around the world, and these special values are known as High Conservation Values or HCVs, and Forest managers need to strengthen preventive measures to protect these landscapes.
Principle 10: Management details
To define the specific details and issues of forest management, to ensure the achievement of objectives, to meet economic, social, and environmental protection, and to jointly comply with forest management standards.
---
WOODEVER Outdoor Furniture FSC Certification
At WOODEVER, we firmly believe in environmental protection and sustainable development, which are essential values in today's world. To ensure our products meet the highest environmental standards, all of our furniture wood comes from responsibly managed FSC-certified forests. This not only helps protect biodiversity and prevent deforestation but also contributes to mitigating climate change, enabling us to achieve our goals of sustainable business development.
We understand that in the global furniture market, reliable sourcing and environmentally-friendly products are crucial for B2B buyers. Therefore, we take pride in offering customers from around the world a wide selection of dependable wooden leisure furniture. Through WOODEVER's products, you can simultaneously meet your customers' demands for quality, design, and environmental sustainability, giving your business a competitive edge that endures.
If you are interested in our products and values, we look forward to establishing a long-term partnership with you. Feel free to reach out to us anytime, and we will wholeheartedly provide you with the best products and services.
---
WOODEVER is one of the leading suppliers and manufacturers of outdoor leisure furniture in Taiwan, Europe, and America.
Our core concept of "Enjoyment of quality of life, long-term companionship with family members", is to provide customers with innovative and market-leading leisure furniture, bringing consumers not only the enjoyment of furniture but also the trust of the soul. All furniture materials are made of high-quality solid wood, and the wood has passed the international FSC certification, which protects the rights of customers and consumers in purchasing, and the smooth flow of import and export shipments, stable and safe on-time delivery.
"Enjoyment of quality of life,
long-term companionship with family members"
WOODEVER produces and develops a variety of outdoor garden furniture, such as hammock stands, swing beds, lounge chairs, swing chair stands, pergolas, swings, etc., has a series of professional wood processing machinery, and can provide customers with flexible customized services. In addition, we also provide OEM manufacturing plans. The product R&D team can develop exclusive leisure products for customers from all over the world. With more than 20 years of experience in furniture production, we can provide you with professional advice. Welcome, all major channel manufacturers to inquire!
Contact us or keep up with our latest news below:
Facebook / Pinterest / Linkedln / YouTube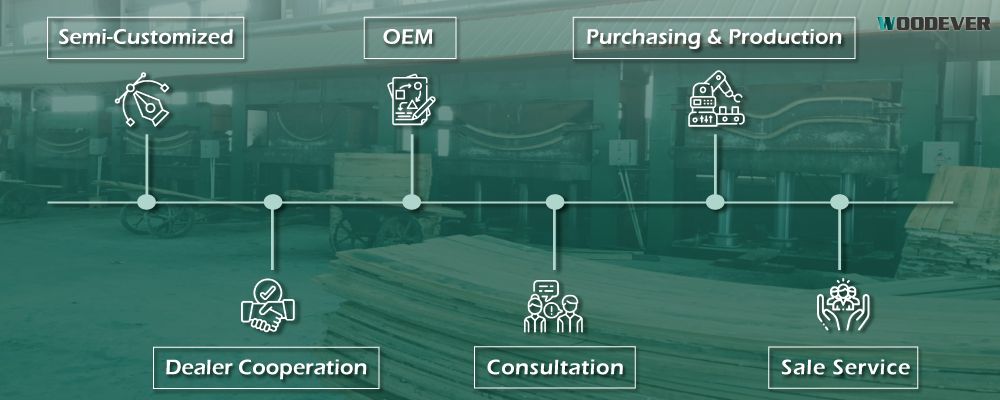 Video
What is FSC? Why choose a supplier with FSC for wooden furniture? - Taiwan-Based Outdoor Wooden Furniture Manufacturer | WOODEVER
Located in Taiwan since 2003, WOODEVER INDUSTRIAL CO., LTD has been a wooden furniture manufacturer. Their main outside wooden furniture, including Wood Hammock, Hammock, Wood Swing, Swing Bed, Lounge Chair and Gazebo, which are sold to Europe, Australia and North America with FSC certified woods.
WOODEVER outdoor furniture has more than 15 years of export experience, factory manufacturing has 15 years of manufacturing experience. WOODEVER manufactures a full range of wooden leisure products, from hammock stand, swing chair stand, swing seat to various types of outdoor furniture. The adhesive glue and handguard varnish used in wooden furniture all come from the international SGS qualification inspection, customers can use the products with peace of mind, and reduce the market's doubts about the generation of formaldehyde from wood products, contribute to the global environment.
WOODEVER has been offering customers high-quality outdoor wooden furniture, both with advanced technology and 35 years of experience, WOODEVER ensures each customer's demands are met.