The Best Three Outdoor Casual Furniture of WOODEVER- B2B Customers Care Pain Points and Suggestions
WOODEVER is a leading provider of outdoor leisure furniture products for global B2B furniture buyers, wholesalers, distributors, and major retailers. We are excited to present our top three most popular outdoor furniture selections, crafted with high-quality solid wood and steel production. As furniture experts, we aim to provide you with an in-depth understanding of these products, while also addressing potential customer pain points you may encounter in the market. We offer tailored recommendations to help you maintain a competitive edge in the dynamic leisure furniture market.
---
08 Aug, 2023
Outdoor leisure furniture holds tremendous potential and appeal in foreign markets. With the fast-paced modern lifestyle, people are placing increasing importance on leisure and relaxation. Outdoor furniture provides a comfortable space for individuals to enjoy the scenery and breathe fresh air in an outdoor environment.

Foreign markets have higher demands for the quality and durability of outdoor leisure furniture. Consumers expect products that are meticulously designed, made from high-quality materials, and built to last. This requires furniture manufacturers to focus on details and craftsmanship, offering products that can withstand various weather conditions without easily getting damaged. When it comes to furniture purchasing, customers seek diversity in design, wanting to choose outdoor furniture of different styles, materials, and functionalities based on their preferences and needs.

Furthermore, environmental friendliness and sustainability have become important trends in outdoor leisure furniture. Consumers are increasingly concerned about the environmental impact of products and social responsibility. They prefer purchasing furniture made from eco-friendly materials that are recyclable and reusable. Therefore, offering outdoor furniture that aligns with sustainable development principles will win consumers' favor.

Based on the above description, we have a general understanding of the important requirements of consumers for outdoor leisure furniture. Next, we will explain the wide range of applications offered by WOODEVER's leisure furniture, enabling global B2B buyers to meet various customer needs.
Areas of Application for Leisure Furniture (Not Limited)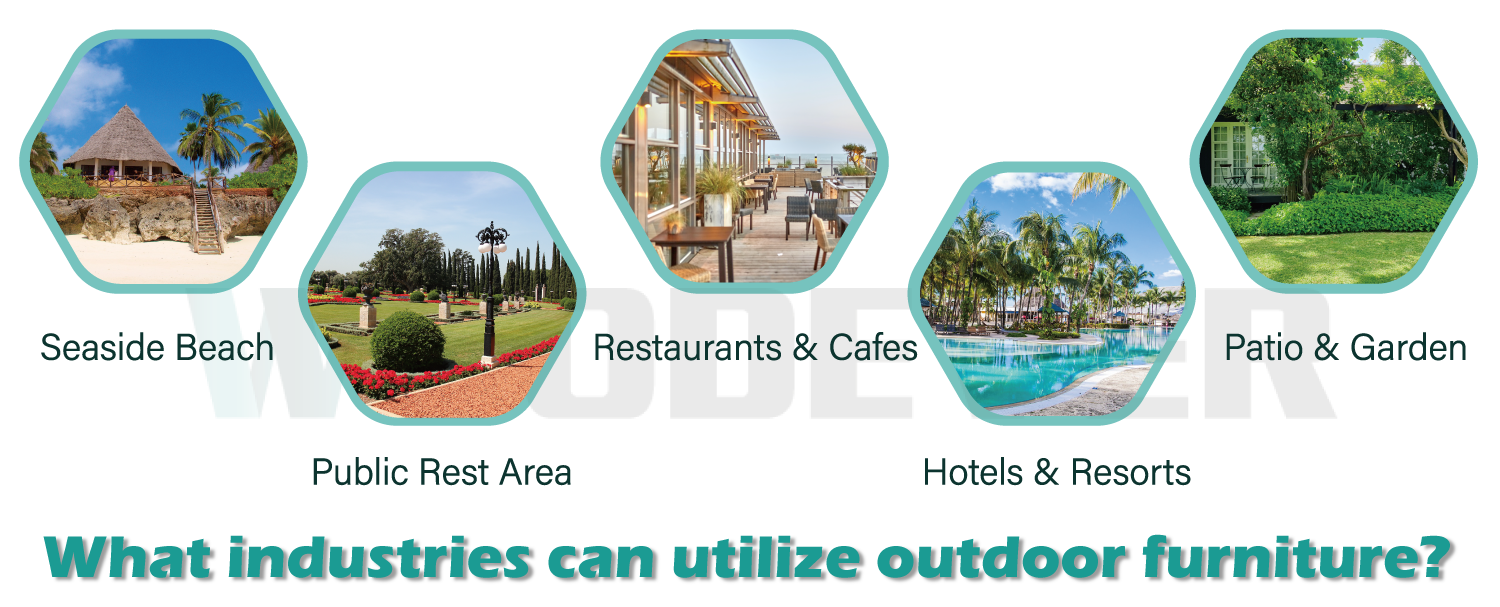 1. Homeyards, Patios, or Gardens: Outdoor wooden furniture adds comfort and elegance to the leisure area within homes, allowing your customers to relax and enjoy the beauty of outdoor living while enhancing their quality of life.
2. Hotels and Resorts: High-quality outdoor leisure furniture provides comfortable and pleasant rest areas, increasing customer satisfaction and return rates for your customers' hotels or resorts. Thoughtfully designed and high-quality outdoor furniture enhances the image of hotels and resorts, attracting more consumers and differentiating them from competitors.
3. Restaurants and Cafes: Comfortable outdoor leisure furniture creates a cozy and delightful dining environment, improving customers' dining experience and satisfaction in food and beverage establishments. Outdoor furniture also expands the dining space, increasing seating capacity and boosting business revenue and foot traffic.
4. Poolside and Beach Areas: Outdoor leisure furniture offers comfortable resting areas by the poolside and beach, allowing visitors to relax, and enjoy the sun and water views. It also provides convenient amenities such as umbrellas, loungers, and tables, offering visitors a comfortable and convenient place to rest.
5. Public Rest Areas: Beautiful and high-quality outdoor leisure furniture enhances the aesthetics and attractiveness of public rest areas, creating pleasant recreational environments in cities and increasing their charm and appeal. Comfortable outdoor seating and rest areas attract people to gather, promote social interactions, and strengthen community cohesion.
---
WOODEVER Recommends:
WOODEVER is here to provide you with professional and carefully selected outdoor leisure furniture. Through data analysis, we have specifically chosen three popular and active products in the furniture market to assist you in gaining a clearer direction for furniture procurement. These selected products include important indicators such as weight, dimensions, durability, and ease of use to ensure that you can make informed decisions during the purchasing process.
Hammocks: Comfortable Hanging Outdoor Cradles
One of the advantages of outdoor leisure hammocks is their exceptional comfort. Hammocks are usually equipped with flexible and comfortable suspension systems that allow users to relax and unwind effortlessly. WOODEVER hammocks have outstanding weight-bearing capacity, supporting weights ranging from 200 to 250 kilograms. The overall length of the frame is designed to accommodate users of different heights, providing an excellent comfort experience. Our hammocks are available in two material options: sturdy solid wood and durable metal steel. Customers can choose the material that suits their needs for production.
It is worth mentioning that hammocks, as one of our best-selling furniture items, have been successfully exported to multiple countries for over 15 years. Furthermore, hammocks possess excellent adaptability and versatility, with diverse designs that can cater to various environments and needs. Whether in home yards, resorts, beaches, or camping sites, hammocks can be easily set up to provide users with a comfortable resting space. Whether you want to take a rest during outdoor camping or enjoy the sun during a vacation, our hammocks can perfectly meet your needs.
Learn more about our Hammock products.
Pain Points:
1. Tedious and Time-consuming Assembly Process: Many outdoor hammock products have complex assembly processes that require excessive time and effort.
2. Unstable Structure Prone to Damage: Some hammock products have unstable frame structures that cannot support weight effectively, compromising safety and increasing the risk of damage.
3. Need for Additional Tools or Professional Installation: Customers may need to purchase additional tools or arrange for professional assistance to assemble the hammock, causing inconvenience.
4. Lack of Customization and Quality Assurance: Hammocks often lack flexibility in customization, unable to meet customer needs and designs. They may also lack quality certifications and guarantees.
Suggestions:
1. Simplified Assembly Process: Our outdoor hammock frame assembly products feature a convenient design that simplifies the assembly process. We provide detailed assembly guides and easy-to-understand instructions, allowing your customers to complete the assembly effortlessly without excessive time and effort.
2. Sturdy and Durable Structure: WOODEVER prioritizes the stability and durability of our hammock frame assembly products. We utilize high-quality materials and precise manufacturing processes, subjecting our products to multiple static and dynamic tests to ensure stability and safety in various environments. You can confidently sell our products globally without worrying about unstable structures or easy damage.
3. No Need for Additional Tools or Professional Assistance: Our hammock frame assembly products are designed for easy installation without requiring additional tools or professional assistance. All necessary accessories and connectors are included in the product packaging, allowing customers to assemble the hammock according to instructions.
4. Customization and Quality Assurance: WOODEVER's hammock frame assembly products can be customized to meet specific customer requirements. You can choose different sizes, materials, and colors. We maintain strict quality control throughout the production process, ensuring that our products meet international standards and regulations. We provide quality assurance, allowing you to confidently choose our products.
---
Pergolas: Natural and Sheltered Retreats
Pergolas are powerful outdoor leisure furniture that provide users with reliable shade and shelter, allowing them to enjoy comfortable moments of relaxation in outdoor environments without being disturbed by sunlight, rain, and other natural elements. WOODEVER offers a variety of size options for pergolas, ranging from small sizes suitable for personal use to large sizes suitable for commercial activities or large gatherings. We have flexible manufacturing capabilities to customize the dimensions according to specific customer needs. Our pergolas are made with high-quality solid wood, such as teak, and sturdy metal steel as production materials.
This ensures that the pergolas are lightweight, easy to transport, assemble, and disassemble. The robust framework not only provides excellent quality assurance but also ensures stability and durability in different environments. Pergolas come in diverse designs that can be customized based on customer preferences and needs. Whether placed in hotels, restaurants, or public rest areas, our pergolas can become focal points that attract customers and visitors, adding extra value to your business. WOODEVER emphasizes furniture details and offers superior design and manufacturing craftsmanship to ensure that the pergolas perfectly blend in terms of appearance and functionality, meeting your unique requirements.
Learn more about our Pergola products.
Pain Points:
1. Lack of Size Adaptability: The limited size options of pergola products do not fully meet various site requirements, lacking adaptability.
2. Poor Durability and Quality: Some pergola products have weak and easily bent support structures, inferior shading fabric materials, and inadequate waterproof performance, unable to withstand harsh outdoor weather conditions.
3. Unclear Installation and Usage: Insufficiently clear installation instructions and usage guidelines cause confusion and inconvenience for customers.
Suggestions:
1. Pergola Size Flexibility: We offer a wider range of size options for pergola products and also provide minor customization to accommodate different site requirements. Customers can choose the appropriate pergola size based on their site dimensions and usage needs, providing a more tailored solution.
2. Sturdy Materials and Structures: We utilize high-quality materials and sturdy construction, ensuring that the support structure is stable and durable. All materials undergo qualified testing and certification. Additionally, we select premium shade fabric made of polyester fibers, providing excellent waterproof performance to ensure the pergola can be safely used in various outdoor weather conditions.
3. Clear and User-Friendly Assembly Instructions: WOODEVER provides detailed and easily understandable assembly guides and operation instructions to assist customers in the easy installation and usage of pergola products. Clear step-by-step instructions and illustrated guides make it easier for customers to understand and follow the necessary steps, saving time and effort.
---
Lounge Chairs: Essential Furniture for Relaxation
Lounge chairs are one of the most common products in outdoor leisure furniture, and their adjustable features allow users to customize their sitting positions, providing optimal support and relaxation. WOODEVER recognizes the diverse needs of users in terms of weight capacity. Therefore, we offer lounge chairs that can support weights ranging from 120 kg to 250 kg. We select high-strength and durable solid wood materials, reinforced structures, ensuring stability and safety during prolonged use and heavy load-bearing.
Our lounge chairs come in various sizes, from standard single-person sizes to large double-person sizes, catering to different heights and comfort preferences. Our lounge chairs undergo strict quality control and testing to withstand daily use and various environmental conditions. They possess excellent wear resistance and stain resistance, making them easy to clean and maintain. Whether used indoors or outdoors, they maintain their appearance and performance over a long period.
Learn more about our Lounge Chair products.
Pain Points:
1. Lack of comfort and ergonomic design: Expecting recliners to provide a comfortable user experience and offer good support. We understand the differences in individuals' body needs, especially those who require more support. A backrest that meets ergonomic design is crucial.
2. Poor quality and durability: In outdoor environments, recliners need to withstand various weather conditions and external factors. Customers want to purchase durable and high-quality recliners to ensure long-term usability.
3. Lack of versatility in recliners: Expecting recliners to meet multiple needs and have an attractive design. Customers are looking for multi-functional recliners that can be used on different occasions. They also want the recliners to blend well with outdoor surroundings, enhancing aesthetics.
4. Difficult maintenance and cleaning: Customers desire recliners that have easy maintenance and cleaning methods to save time and effort.
Suggestions:
1. Ergonomic backrest design: Our recliner products are designed with a focus on comfort and support, incorporating ergonomic design principles. This allows users to experience enhanced comfort. You can choose from different styles and configurations of recliners to meet the specific needs of different users. Our team will provide professional advice based on your specific requirements to ensure you select the most suitable recliner product.
2. Expertise in recliner quality: WOODEVER ensures strict quality control and testing for all our recliner products. We use high-quality materials and precise manufacturing processes to ensure durability and excellent quality. Our recliners maintain stable performance and appearance, whether in hot summers or humid environments.
3. Manufactured with versatility in mind: We offer a variety of recliner styles and designs to meet different occasions and purposes. Whether it's in a home garden, a resort, or a hotel terrace, our recliners seamlessly blend into and enhance outdoor space aesthetics. Additionally, we provide custom design services to ensure the recliners align with your brand image and specific needs.
4. Easy maintenance: Considering the need for easy maintenance and cleaning, we use materials and surface treatments that are easy to clean, allowing the recliners to be effortlessly maintained while maintaining a good appearance. Furthermore, we provide detailed maintenance guidelines to assist customers and consumers in protecting and caring for their recliners, thereby extending their lifespan.
---
Thank you for your interest in WOODEVER Outdoor Leisure Furniture. We are honored to recommend our top three best products to global B2B purchasers, wholesalers, distributors, and major retailers while understanding the pain points and needs of consumers in the outdoor furniture industry. We hope to provide you with some suggestions to help you make faster and smoother product purchases.
At WOODEVER, we recognize that each customer's needs are unique and diverse. The product recommendations we provide are intended as references, and we are more than happy to offer more in-depth professional advice. If you have any more challenging questions or concerns, please feel free to directly contact our team. Our experts will be dedicated to assisting you, answering your inquiries, and providing product solutions that meet your needs.
---
WOODEVER is one of the leading suppliers and manufacturers of outdoor leisure furniture in Taiwan, Europe, and America.
Our core concept of "Enjoyment of quality of life, long-term companionship with family members", is to provide customers with innovative and market-leading leisure furniture, bringing consumers not only the enjoyment of furniture but also the trust of the soul. All furniture materials are made of high-quality solid wood, and the wood has passed the international FSC certification, which protects the rights of customers and consumers in purchasing, and the smooth flow of import and export shipments, stable and safe on-time delivery.
"Enjoyment of quality of life,
long-term companionship with family members"
WOODEVER produces and develops a variety of outdoor garden furniture, such as hammock stands, swing beds, lounge chairs, swing chair stands, pergolas, swings, etc., has a series of professional wood processing machinery, and can provide customers with flexible customized services. In addition, we also provide OEM manufacturing plans. The product R&D team can develop exclusive leisure products for customers from all over the world. With more than 20 years of experience in furniture production, we can provide you with professional advice. Welcome, all major channel manufacturers to inquire!
Contact us or keep up with our latest news below:
Facebook / Pinterest / Linkedln / YouTube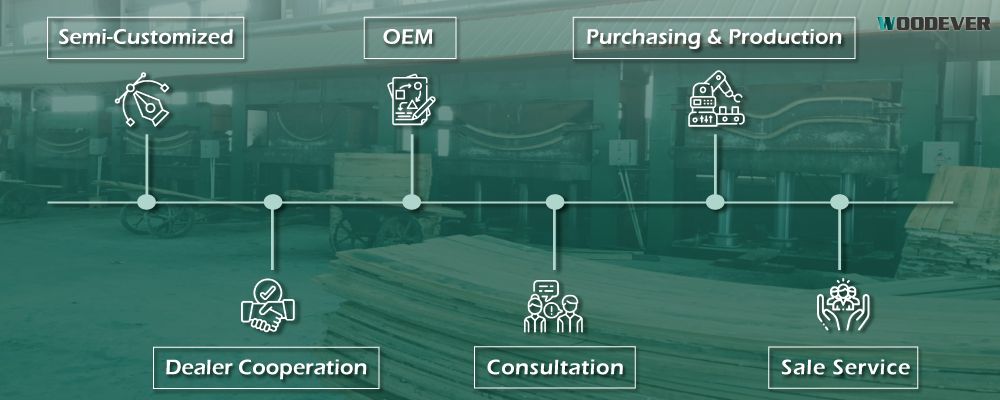 The Best Three Outdoor Casual Furniture of WOODEVER- B2B Customers Care Pain Points and Suggestions - Taiwan-Based Outdoor Wooden Furniture Manufacturer | WOODEVER
Located in Taiwan since 2003, WOODEVER INDUSTRIAL CO., LTD has been a wooden furniture manufacturer. Their main outside wooden furniture, including Wood Hammock, Hammock, Wood Swing, Swing Bed, Lounge Chair and Gazebo, which are sold to Europe, Australia and North America with FSC certified woods.
WOODEVER outdoor furniture has more than 15 years of export experience, factory manufacturing has 15 years of manufacturing experience. WOODEVER manufactures a full range of wooden leisure products, from hammock stand, swing chair stand, swing seat to various types of outdoor furniture. The adhesive glue and handguard varnish used in wooden furniture all come from the international SGS qualification inspection, customers can use the products with peace of mind, and reduce the market's doubts about the generation of formaldehyde from wood products, contribute to the global environment.
WOODEVER has been offering customers high-quality outdoor wooden furniture, both with advanced technology and 35 years of experience, WOODEVER ensures each customer's demands are met.