Expanding Furniture Production Base in Vietnam to Mitigate International Tariff Issues - WOODEVER's Professional Furniture Factory in Vietnam
In the fiercely competitive B2B international market, cost efficiency is considered one of the keys to success. WOODEVER Outdoor Furniture Supplier has always been committed to providing high-quality leisure furniture products. We recognize the U.S.-China trade war tariff challenges that businesses face in the international market. To better meet the needs of our B2B customers, we have decided to expand our production base and establish a specialized leisure furniture factory in Vietnam. Metal outdoor furniture can now be manufactured and shipped from our Vietnam factory, and we are continually expanding our product line, including indoor and outdoor leisure products. This decision will bring more choices and increased competitiveness to all businesses.
---
30 Oct, 2023
1. Vietnam: The New Hub of Manufacturing
In recent years, Vietnam has emerged as a significant focal point in the global manufacturing industry. The country boasts extensive production capabilities, skilled workers, and trade policies with low or even zero tariffs, making it an ideal manufacturing base, particularly in furniture production. According to Research and Markets, recent studies show that Vietnam has become the sixth-largest furniture manufacturing nation globally and the second-largest furniture exporter, with its production value growing from $5 billion to nearly $20 billion over the past decade. According to research from Furniture Today, in 2020, Vietnam overtook China, a long-standing industry giant, becoming the United States' largest furniture exporting country, marking one of the most remarkable industrial shifts of our time.
Furthermore, the Vietnamese government has ambitious plans to significantly expand its wood processing industry by 2030, providing more opportunities for leisure furniture manufacturing. They are making substantial investments in technology and actively attracting wood processing companies to invest in the country. They are also constructing an International Furniture Exhibition Center, focusing on producing furniture, outdoor goods, engineered wood products, and more.
In the past, China has consistently been the primary exporting country for B2B businesses. However, in recent years, the Chinese manufacturing sector has encountered various cost-increase challenges. The issue of China–United States tariffs has further accentuated these difficulties. WOODEVER Furniture deeply understands this trend and the associated problems. To address the rising challenge of tariff-related costs and to achieve supply chain diversification, we have established a specialized leisure furniture factory in Vietnam.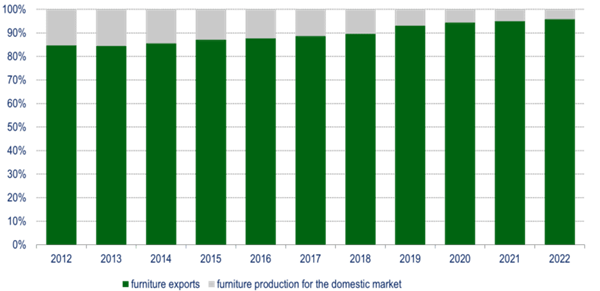 - Image Source: Research and Markets
2. Reducing International Tariffs to Boost Product Competitiveness
By establishing a production base in Vietnam, we can effectively reduce the burden of China–United States tariffs and even achieve tariff exemptions. Simultaneously, we lower various manufacturing costs, providing not only significant cost savings for B2B manufacturers but also offering more competitive furniture prices, enabling you to stand out in the market. Whether you are a wholesaler, retailer, distributor, or brand, this will help you provide more attractive prices to your customers and further expand your business.
3. Diverse Choices to Meet Customer Needs
WOODEVER Leisure Furniture Supplier's Vietnam factory offers a wide range of choices to cater to the diverse needs and budgets of different customers while maintaining high-quality and reliable furniture products. In addition to our existing production of metal outdoor leisure furniture in the Vietnam factory, we will provide even more leisure furniture options, both for indoor and outdoor settings. Furthermore, we offer OEM customization options to meet your customers' requirements, maximizing satisfaction. Below, you'll find the metal outdoor leisure furniture currently produced in our Vietnam factory, as well as the leisure products we can manufacture. We also welcome manufacturers to provide furniture styles or customized products as needed, and WOODEVER will go to great lengths to meet your demands.
4. Vietnam Factory Product Production
Our Vietnamese furniture manufacturing factory is capable of producing a variety of metal furniture, including steel hammock frame sets, outdoor steel pergolas, and gazebos, indoor and outdoor steel swing chairs, as well as home office desk chairs, small coffee tables, or modern simple style laptop tables. Whether you require the use of metal materials or laminated plywood, medium-density fiberboard (MDF), tri-ply plywood (hardwood), or particleboard, we are well-equipped to provide the most comprehensive furniture processing and production solutions tailored to your specific customer needs.

WOODEVER Outdoor Leisure Furniture Supplier is committed to providing B2B global customers with more choices and competitive prices. Our specialized furniture factory in Vietnam is a key part of delivering on this commitment, offering more opportunities for your business to grow. Regardless of your needs, we are prepared to provide high-quality leisure furniture products and exceptional service.
---
WOODEVER is one of the leading suppliers and manufacturers of outdoor leisure furniture in Taiwan, Europe, and America.
Our core concept of "Enjoyment of quality of life, long-term companionship with family members", is to provide customers with innovative and market-leading leisure furniture, bringing consumers not only the enjoyment of furniture but also the trust of the soul. All furniture materials are made of high-quality solid wood, and the wood has passed the international FSC certification, which protects the rights of customers and consumers in purchasing, and the smooth flow of import and export shipments, stable and safe on-time delivery.
"Enjoyment of quality of life,
long-term companionship with family members"
WOODEVER produces and develops a variety of outdoor garden furniture, such as hammock stands, swing beds, lounge chairs, swing chair stands, pergolas, swings, etc., has a series of professional wood processing machinery, and can provide customers with flexible customized services. In addition, we also provide OEM manufacturing plans. The product R&D team can develop exclusive leisure products for customers from all over the world. With more than 20 years of experience in furniture production, we can provide you with professional advice. Welcome, all major channel manufacturers to inquire!
Contact us or keep up with our latest news below:
Facebook / Pinterest / Linkedln / YouTube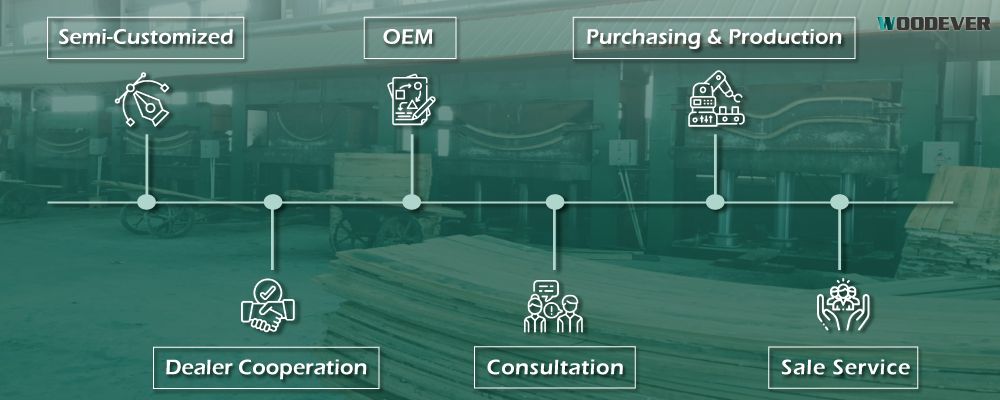 Related Products
Expanding Furniture Production Base in Vietnam to Mitigate International Tariff Issues - WOODEVER's Professional Furniture Factory in Vietnam - Taiwan-Based Outdoor Wooden Furniture Manufacturer | WOODEVER
Located in Taiwan since 2003, WOODEVER INDUSTRIAL CO., LTD has been a wooden furniture manufacturer. Their main outside wooden furniture, including Wood Hammock, Hammock, Wood Swing, Swing Bed, Lounge Chair and Gazebo, which are sold to Europe, Australia and North America with FSC certified woods.
WOODEVER outdoor furniture has more than 15 years of export experience, factory manufacturing has 15 years of manufacturing experience. WOODEVER manufactures a full range of wooden leisure products, from hammock stand, swing chair stand, swing seat to various types of outdoor furniture. The adhesive glue and handguard varnish used in wooden furniture all come from the international SGS qualification inspection, customers can use the products with peace of mind, and reduce the market's doubts about the generation of formaldehyde from wood products, contribute to the global environment.
WOODEVER has been offering customers high-quality outdoor wooden furniture, both with advanced technology and 35 years of experience, WOODEVER ensures each customer's demands are met.