COVID-19 Easing-The impact of rising tourism on furniture?
COVID-19 relaxation pushed up the consumer's retaliatory travel, driving to hotels, inns, B&Bs, and other businesses, as well as the rise of outdoor tourist attractions, at this time, the replacement of outdoor leisure furniture is essential! WOODEVER garden furniture suppliers have high-quality wooden furniture and can customize it into the style or branding that the industry wants, providing the latest outdoor product information to all industries immediately!
---
17 Mar, 2023
With the relaxation of COVID-19 restrictions, countries began to relax travel inspection standards, and tourism demand then gradually increased and linked to enhancing the hotel, hotel, resort or B&B operators and other accommodation orders, and outdoor leisure furniture products also received a positive impact.
According to a survey by Hospitality Net, travel searches will increase by 75% in 2022 compared to last year, with a significant increase in travel and tourism spending around the world, mainly in Europe, the Americas, Asia, and the Pacific, bringing economic benefits of nearly US$1.34 billion. The number of open spaces or public gardens in hotels, restaurants, B&Bs, or resorts around the world has increased significantly, with accommodation bookings up 35% compared to 2021 and continuing to rise.
Consumer spending on leisure travel has increased a lot, and the demand for outdoor area equipment or activity experience has risen. To provide a good consumer leisure life experience, it has encouraged resorts or hotels to increase spending on outdoor patio products in public open spaces, including loungers by the pool, hammocks in garden areas, hanging chairs or pergolas for resting spaces, etc.
In the face of COVID-19, many bars and restaurant owners are planning to set up outdoor dining areas to provide a comfortable and pleasant environment for consumers, and Global Market Insights predicts that the compound growth rate of outdoor furniture will exceed 5.9% from 2021 to 2027.
---
Environmental awareness needs to be raised again.
The demand for wood as a material in the manufacture of outdoor furniture provides environmentally conscious suppliers with new green furniture options, with the trend of protecting the global environment on the rise, more and more people tend to buy products with environmental certification labels, and the demand for furniture made with environmental protection is gradually increasing.
According to Global Market Insights research, wood will account for more than 50% of the outdoor furniture market in 2021 and is expected to achieve a growth rate of around 6.5% by 2027, and the strength, temperature, durability, and environmental friendliness of wood have made it one of the most popular choices of material for backyard outdoor furniture, and it is widely used for residential, tourist hotel or commercial needs.
WOODEVER has been exporting wooden outdoor furniture for decades, and all of our wood is FSC certified by the Forest Stewardship Council, made of larch wood from legal forests, the furniture production factory has been certified by BSCI, guaranteeing quality. We have practical market experience in customizing furniture structures and matching and sourcing textiles. If you are ready to join the outdoor leisure furniture market, WOODEVER will be your best partner.
---
WOODEVER is one of the leading suppliers and manufacturers of outdoor leisure furniture in Taiwan, Europe, and America.
Our core concept of "Enjoyment of quality of life, long-term companionship with family members", is to provide customers with innovative and market-leading leisure furniture, bringing consumers not only the enjoyment of furniture but also the trust of the soul. All furniture materials are made of high-quality solid wood, and the wood has passed the international FSC certification, which protects the rights of customers and consumers in purchasing, and the smooth flow of import and export shipments, stable and safe on-time delivery.
"Enjoyment of quality of life,
long-term companionship with family members"
WOODEVER produces and develops a variety of outdoor garden furniture, such as hammock stands, swing beds, lounge chairs, swing chair stands, pergolas, swings, etc., has a series of professional wood processing machinery, and can provide customers with flexible customized services. In addition, we also provide OEM manufacturing plans. The product R&D team can develop exclusive leisure products for customers from all over the world. With more than 20 years of experience in furniture production, we can provide you with professional advice. Welcome, all major channel manufacturers to inquire!
Contact us or keep up with our latest news below:
Facebook / Pinterest / Linkedln / YouTube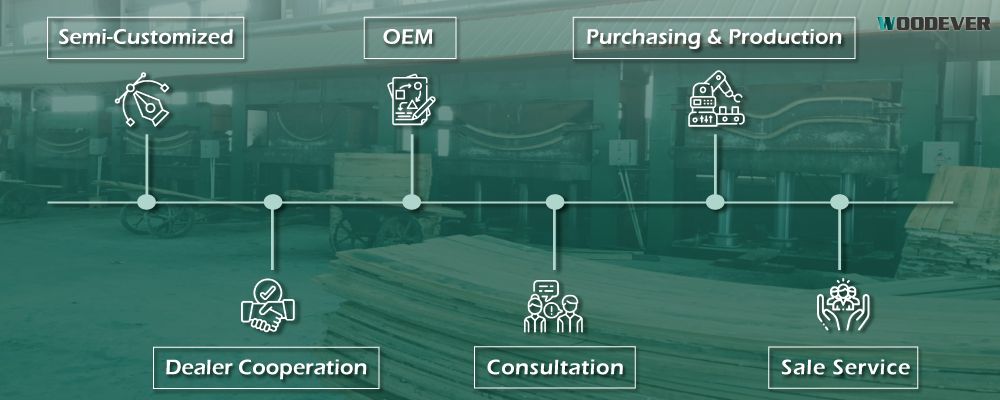 Related Products
COVID-19 Easing-The impact of rising tourism on furniture? - Taiwan-Based Outdoor Wooden Furniture Manufacturer | WOODEVER
Located in Taiwan since 2003, WOODEVER INDUSTRIAL CO., LTD has been a wooden furniture manufacturer. Their main outside wooden furniture, including Wood Hammock, Hammock, Wood Swing, Swing Bed, Lounge Chair and Gazebo, which are sold to Europe, Australia and North America with FSC certified woods.
WOODEVER outdoor furniture has more than 15 years of export experience, factory manufacturing has 15 years of manufacturing experience. WOODEVER manufactures a full range of wooden leisure products, from hammock stand, swing chair stand, swing seat to various types of outdoor furniture. The adhesive glue and handguard varnish used in wooden furniture all come from the international SGS qualification inspection, customers can use the products with peace of mind, and reduce the market's doubts about the generation of formaldehyde from wood products, contribute to the global environment.
WOODEVER has been offering customers high-quality outdoor wooden furniture, both with advanced technology and 35 years of experience, WOODEVER ensures each customer's demands are met.