Master the material characteristics! Choose the right outdoor furniture business opportunities – Wood & Metal
WOODEVER is a professional wood furniture manufacturer and has been producing wood products for more than 20 years. We use solid wood with stable quality and high content of resin to provide furniture with natural protection and structural stability, which can easily face various outdoor environments. All of our wood materials are FSC certified to meet the needs of environmental trends!
Today, we will provide you with information on how to choose the right material for outdoor furniture when faced with wood and metal.
---
10 Feb, 2023
As the use of outdoor furniture grows in popularity, so does people's concern about the material. Outdoor furniture is typically made from a variety of materials. Metal and wood are the most popular options. In this article, we will compare the properties of metal and wood when used to construct outdoor furniture.
The most outstanding feature of outdoor furniture is its ability to withstand outdoor elements such as weather, temperature, and humidity in the long run. Compared to indoor furniture, the choice of material for outdoor ones is significantly considered.
The following are some notable factors that need to count in:
1. Rain and Humidity
As the problems may be caused by rain and high humidity for a long time, it is significant to ensure that outdoor furniture can withstand the influence of these outdoor elements. In addition to the protective coating, the quality of the material must be the critical component.
2. Anti-fungal and insect-resistant
When the furniture is placed in outdoor scenes such as gardens or decks, which are full of many small insects, the moisture of the furniture is easily trapped, and the mold is likely to form and spread in the surface material. The risk of erosion must be considered when selecting materials, as well as the ability to resist insect pests and molds.
3. Rust and corrosion situation
Outdoor air contains a lot of moisture, and many types of furniture are easily affected by moisture and oxygen, resulting in the chemical reaction of oxidation. It is difficult to repair or cause permanent damage once rusted. It is more common in humid areas such as the seaside and mountains.
4. Cracked or deformed stent structure
The material's quality is unstable or changes during processing. It may be affected by the cold and heat of the weather in the outdoor environment, causing the stent to shrink and expand significantly, resulting in bending or cracking.
5. Fading or peeling paint
Many pieces of furniture will have different colors or patterns painted on the surface. More prolonged sun exposure causes the color to fade or fall off, necessitating frequent maintenance and color correction.
6. Ease of cleaning and maintenance
Different materials require different maintenance methods and can be cleaned with specialized cleaning tools or kits. End users need to understand the complexity of the furniture maintenance process. Whether it takes a long or short time depends on the nature or structure of the material itself. As a result, people need to consider carefully in order to choose the type of material that can save their cleaning and maintenance time.
7. Environmentally friendly material
Environmental protection has become a hot topic in recent years, and the general public is becoming more aware of the environmental impact of raw materials. Among them, in environmental protection materials, it is necessary to know whether it is a substance that is safe and healthy and does not harm the human body, whether it can be recycled and reused, and whether it can become a renewable resource. To ensure and implement the authenticity of environmental protection standards, the relevant regulations on the import and export of furniture require materials certified by the International Forest Stewardship Council (FSC).
8. Costs of raw materials
The cost of materials determines the price of outdoor furniture. Understanding the value and life of the material, as well as the previous seven points, are far more important than the market price in the long run.
Everyone wants to buy outdoor furniture that will last a long time and can withstand harsh outdoor weather changes. Durability has become the most important factor to consider when purchasing outdoor furniture. In recent years, the proportion of wood materials imported and exported has increased, as has the production of furniture using wood as a raw material. Most wood materials can withstand changes in outdoor weather for a long time, have natural and stable quality, resist moisture and temperature expansion and contraction, and are ideal materials for making outdoor furniture.
Furthermore, environmental awareness has gradually grown, becoming one of the most significant trends in recent years. More and more people are beginning to consider the impact of furniture on the global environment. According to Grand View Research, traditional furniture emits harmful pollutants such as volatile organic compounds, or VOCs for short, which can cause allergies, headaches, or asthma. This raises the popularity of eco-friendly natural furniture made with low chemical processing and promotes the use of sustainable materials such as reclaimed wood, bamboo, rattan or wicker, and so on.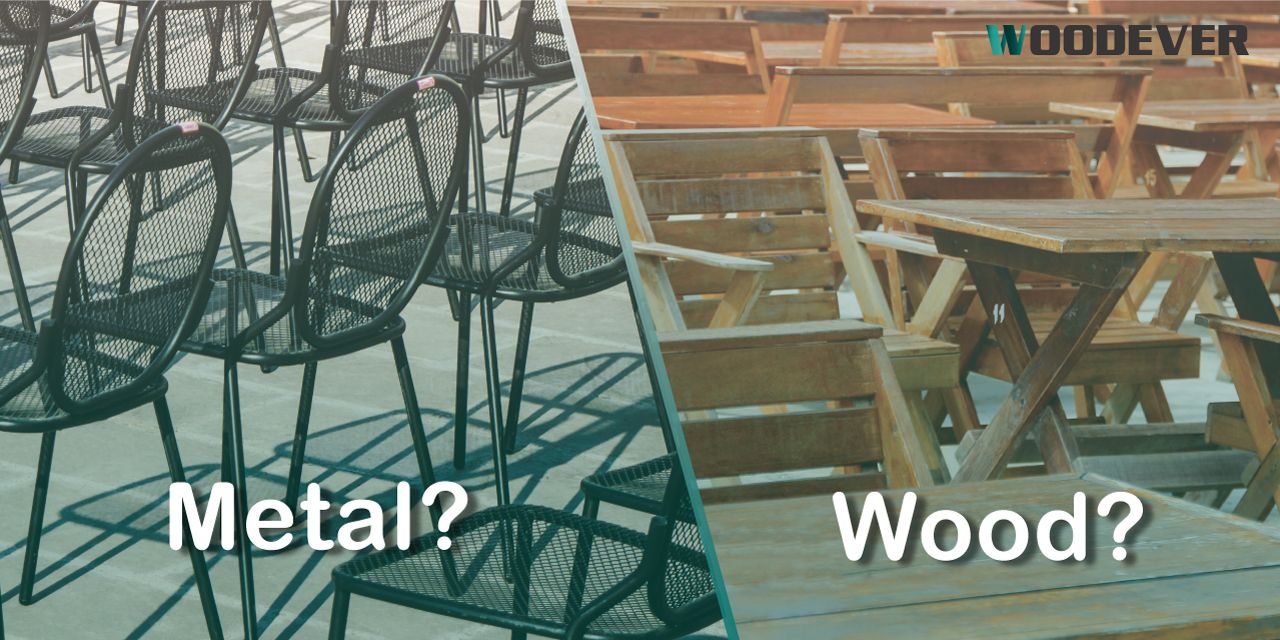 ---
Difference Between Wood and Metal
| | | |
| --- | --- | --- |
| | Wood | Metal |
| Sturdy construction | Fiber toughness, sturdy and robust structure, and high durability, but only belong to natural logs and solid wood. | Strong and sturdy, metal welding technical problems may affect the stability of the joint connection. |
| Moisture/Mold/Month | Logwood has a high resin content, which forms a protective layer for furniture, allowing it to be slightly waterproof and rot-resistant, as well as reducing the incidence of moths and molds. Usually, a clear varnish is applied in addition to ensuring a long service life outdoors. | The moisture-proof effect is low. When there is a lot of moisture in the air, it is easy to oxidize and rust, resulting in spots or fading. Most of them need additional coating protection during processing. |
| surface color | It is generally natural log color and has natural textures and wooden knots. The surface will fade slightly over time, and regular wiping and maintenance can keep the luster without discoloration. | If the surface is exposed to the sun for a long time, or in the air with high humidity, it is easy to rust and cause discoloration or peeling of paint. You can use baking soda or white vinegar to remedy the situation. |
| Environmentally friendly nature | It is an organic material, with well sustainable development, a low carbon footprint of processing and production, and the use of replanted wood to reduce damage to the environment. | Metal is highly recycled, but the production process has a higher carbon footprint than wood. |
| Cleaning and maintenance | The focus of wood maintenance is the gloss of the surface. Just use furniture cleaner or essential oil, etc., and gently wipe the surface, do not use dishwashing liquid or soapy water. | Easy oxidation requires frequent maintenance, scrubbing with a special cleaning agent, and applying maintenance oil to protect it to reduce the chance of rust. |
| Cracking/Deformation | Wood has low thermal conductivity, is not easily affected by temperature changes, and has high stability, and the stent is not easily contracted or expanded to cause fracture or bending. | Most of the brackets are assembled using welding melting point technology, which has a low probability of cracking and deformation. |
WOODEVER outdoor furniture is mostly built from solid wood, which is rich in resin and has insect and decay resistance characteristics. A natural protective layer is formed outdoors, and a transparent non-toxic protective varnish will be added to double protect the furniture while retaining the natural wood texture on the surface. Solid wood is of high quality and stability, and it is not easily affected by weather changes that cause the stent to shrink or expand.
All the wood in our furniture factories has passed the international FSC certification, which is the standard for environmental safety and import/export, so customers can purchase products with peace of mind.
There are hundreds of materials used to make outdoor furniture; whether it is made of wood, metal, or other plastic materials, the most important thing is to choose the one that is right for you. WOODEVER will continue to develop new products, offer more professional services, and meet the diverse needs of customers in various countries in the future.
---
WOODEVER is one of the leading suppliers and manufacturers of outdoor leisure furniture in Taiwan, Europe, and America.
Our core concept of "Enjoyment of quality of life, long-term companionship with family members", is to provide customers with innovative and market-leading leisure furniture, bringing consumers not only the enjoyment of furniture but also the trust of the soul. All furniture materials are made of high-quality solid wood, and the wood has passed the international FSC certification, which protects the rights of customers and consumers in purchasing, and the smooth flow of import and export shipments, stable and safe on-time delivery.
"Enjoyment of quality of life,
long-term companionship with family members"
WOODEVER produces and develops a variety of outdoor garden furniture, such as hammock stands, swing beds, lounge chairs, swing chair stands, pergolas, swings, etc., has a series of professional wood processing machinery, and can provide customers with flexible customized services. In addition, we also provide OEM manufacturing plans. The product R&D team can develop exclusive leisure products for customers from all over the world. With more than 20 years of experience in furniture production, we can provide you with professional advice. Welcome, all major channel manufacturers to inquire!
Contact us or keep up with our latest news below:
Facebook / Pinterest / Linkedln / YouTube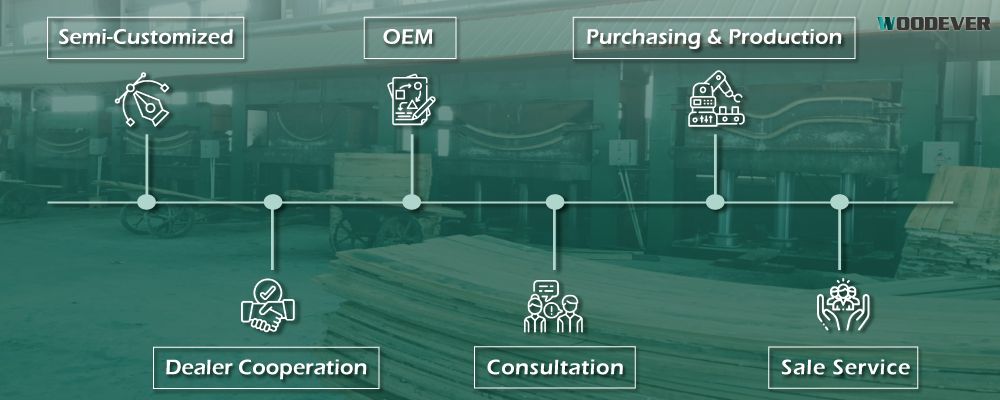 Master the material characteristics! Choose the right outdoor furniture business opportunities – Wood & Metal - Taiwan-Based Outdoor Wooden Furniture Manufacturer | WOODEVER
Located in Taiwan since 2003, WOODEVER INDUSTRIAL CO., LTD has been a wooden furniture manufacturer. Their main outside wooden furniture, including Wood Hammock, Hammock, Wood Swing, Swing Bed, Lounge Chair and Gazebo, which are sold to Europe, Australia and North America with FSC certified woods.
WOODEVER outdoor furniture has more than 15 years of export experience, factory manufacturing has 15 years of manufacturing experience. WOODEVER manufactures a full range of wooden leisure products, from hammock stand, swing chair stand, swing seat to various types of outdoor furniture. The adhesive glue and handguard varnish used in wooden furniture all come from the international SGS qualification inspection, customers can use the products with peace of mind, and reduce the market's doubts about the generation of formaldehyde from wood products, contribute to the global environment.
WOODEVER has been offering customers high-quality outdoor wooden furniture, both with advanced technology and 35 years of experience, WOODEVER ensures each customer's demands are met.